Marisol Nichols: 'We Are Officially a Family'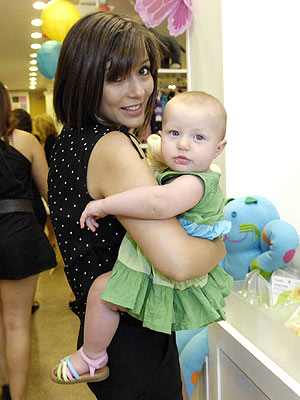 Amy Graves/WireImage
Actress Marisol Nichols never doubted that she and her husband Taron Lexton were a family, but when the couple welcomed their first child last year, the label suddenly hit home.
"We are officially a family," she told Celebrity Baby Blog at Bel-Bambini's VIP reception on July 17th.
An avid fan of the children's line — half of 10 ½-month-old Rain India's nursery is from the store — Marisol laughs that she loves nothing more than to stock up on clothes for her daughter!
"I'm more attached to the clothes for her than anything," she admits, adding that baby girl has staked her claim on her Vulli Sophie the Giraffe teething toy.
"That toy, oh my gosh, that toy was like her first favorite-can't-live-without-it [item]," shares the proud mama.
Click below to read about Marisol's plans to make Rain a big sister.
Although she may still be too young to play with baby dolls, Marisol laughs that Rain is already showing signs of being nurturing!
"It's funny, it's an immediate thing. As soon as I showed her a doll and was like, 'Hey Rain,' huge smiles and she grabs the doll. I don't think boys do that. I think it's a girl thing and it's just in there."
Quickly bouncing back after baby, Marisol attributes her weight loss "hands down" to breastfeeding. "I could not do this without breastfeeding," she notes.
In addition to nursing, the 35-year-old has regained her figure by following an altered version of the 1st Personal Diet. While the "fantastic" plan revolves around balancing the right foods to regulate the body's hormones, Marisol has added her own adjustments.
"I changed it a bit and have more portions, because I'm breastfeeding. It's not necessarily for [nursing] moms, so I altered it so I could make it work. That in conjunction with breastfeeding has been a lifesaver."
With Marisol and Taron still focused on catching up on much-needed sleep — the two "take turns…so that one or both of you can actually be sane the next day" — they look forward to welcoming a sibling for Rain.
"I have to understand how to get everything settled in with her first," explains Marisol. "I think probably once she hits two, there'll be a groove where she doesn't have to be completely attached. [Once] she can walk and jump and do those things where she's a little more independent, then [we can] have the attention for a second one."
– Anya with reporting by Christina Yoon
by
Add your quick reply below:
You must be a member to reply to this post.
Replies:
There are no replies to this post.