Kendra Wilkinson is Expecting a Boy!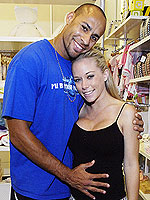 Amy Graves/WireImage
Her intuition was correct! Kendra Wilkinson blogs that an ultrasound earlier today revealed that she is, in fact, expecting a son.
"Hank and I are having a baby boy!!!!!!!!!!!! AHHHHHH!!!!!!," she writes. "When the doctor told me I was just like OH MY GOD, I'm going to have a son!!!!! Today is certainly always going to be one of the most memorable days of my life!"
"Whether this little guy is a jock or not, he's definitely going to be a mama's boy. And, there's no doubt he's gonna be a handsome one…just look at his dad," she adds.
"Hank and I can't wait to get started decorating the nursery and stocking his closet full of teeny tiny Eagles jerseys (and Chargers ones too hahahaha)," the Girls Next Door and Kendra star says. Due in late December with her and husband Hank Baskett's first child, Kendra, 24, says, "Christmas Day and dirty diapers can't come soon enough."
Source: Kendra Wilkinson
by
Add your quick reply below:
You must be a member to reply to this post.
Replies:
There are no replies to this post.