C is for caution: C-sections on the rise
C is for caution: C-sections on the rise
Or it may be for convenience, critics say. The surgery, once risky, now is used in about a third of U.S. births.
By Marie McCullough
Inquirer Staff Writer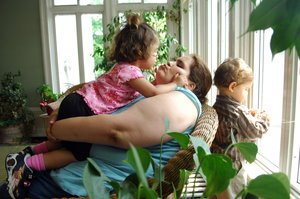 JENNIFER S. ALTMAN / For The Inquirer Maria Barroso, 23, with Kristyna, 2, and Matthew, 1, at home in Queens, N.Y. When she first got pregnant, Barroso was toldthat "many plus-size women can't have a baby naturally." She wound up with a cesarean she thinks could have been avoided. »
More images
For a peek into the future of childbirth, look to Puerto Rico.
Nearly half of all babies born in the U.S. protectorate are delivered by cutting open their mothers' abdomens.
On the mainland, the cesarean section rate is not as high, but it has been climbing for a decade. In 2005, almost a third of the nation's 4.1 million births were surgical.
New Jersey, which tops the charts with a 36.3 percent cesarean rate, had a few northern hospitals that matched Puerto Rico's 47.7 percent rate. Pennsylvania, at 28.8 percent, was far behind, but some individual hospitals were not. Lankenau Hospital in Wynnewood hit 41 percent.
No one can explain why the United States keeps shattering its own cesarean records. Many experts say there is no "ideal" cesarean rate, but there is also no evidence that a vast, growing segment of the female population wants or needs major abdominal surgery to give birth. And while a dramatic decline in maternal deaths coincided with higher rates of cesarean, that trend ended 20 years ago. Today, ill effects such as life-threatening placental problems are being linked to C-sections.
Yet natural delivery is not enjoying a rebirth.
Pennsylvania Hospital high-risk obstetrician Harish Sehdev said, "If I look at Pennsylvania Hospital, we may say, 'Sure, we'd like a lower rate.' But when you review why an individual cesarean was done, I think it was appropriate."
Groups that have demonstrated the will and the way to reduce cesareans - midwives, birthing coaches, lactation consultants, and other fans of natural birth - are far less influential than in the 1980s, when they led a modestly successful fight against rising cesarean rates.
"This is mostly about changes in culture," said Eugene Declercq, an expert in maternal and child health at Boston University's School of Public Health. "In all the gray areas of clinical decision-making, obstetricians have moved to cesareans. Mothers are more accepting, too."
Cesarean critics worry that doctors are frightening mothers into the surgery.
"A woman who is given reason to be scared that something bad might happen to her unborn child will do anything to avoid it," said Jose Gorrin Peralta, a University of Puerto Rico obstetrician. "If the doctor says, 'Your baby could die unless I do a cesarean,' what woman is going to say, 'Don't do it'? I call it obstetrical terrorism."
In the spring, the deaths of two Barrington elementary school teachers gave maternity-care activists a sorrowful platform to lobby for a new law that would help pregnant women evaluate their risk of being cut open.
Valerie Scythes and Melissa Farah died, 15 days apart, after delivering healthy babies by cesarean section at Underwood-Memorial Hospital in Woodbury. Although no one has yet alleged that surgery caused the deaths, both families have hired lawyers.
Activists gamely staged a demonstration last month on the sidewalk in front of Underwood - a dozen women with children in tow - yelling over the noise of traffic and street construction.
"Right now, the whole country is looking at what we do here in New Jersey," birthing coach Stacey Gregg proclaimed. "Pregnant women consumers in New Jersey need to have the cesarean rate statistics for each hospital and obstetrician so they can make informed health choices."
Who's choosing?
Through the 1940s, cesarean delivery was a rare, last resort to save the baby, often at the cost of the mother's life. One in 16 women died.
With the advent of modern anesthesia, antibiotics, transfusions and surgical techniques, the procedure became truly lifesaving.
The doctor could perform a rescue within minutes if the mother's blood pressure or blood sugar soared. If she hemorrhaged. If the placenta separated from her womb or blocked her birth canal. If the baby began suffocating because a shoulder got stuck after the head emerged.
Gradually, though, cesareans became more about caution and convenience than life and death. Most are done because labor has gone too long or at the first hint of trouble, such as a "nonreassuring" fetal heart rate on a monitor.
Two years ago, a few prominent U.S. obstetricians argued for a radical change. They contended that pushing a baby through the birth canal was inherently riskier for the mother's pelvic anatomy and the child's health than a cesarean. Surgery, they said, should be a woman's choice, even for her first pregnancy, even if she didn't need it.
This went far beyond the consensus that after a cesarean, a woman could choose surgery for subsequent pregnancies.
The American College of Obstetricians and Gynecologists decided to weigh in on the ethics of this controversial notion of "maternal choice" cesarean.
It concluded that data on the risks and benefits were lacking. Therefore, the group said, performing one is ethical if the physician "believes" it promotes the patient's health - and unethical if the physician "believes" it doesn't.
Before long, the media were reporting that growing numbers of women were demanding that they go under the scalpel for their first births because, well, they preferred to.
But efforts to quantify this demand have found it doesn't really exist.
Healthgrades, a health-care ratings firm, used hospital discharge data to estimate that maternal-request cesareans rose from 1.6 percent of all cesareans in 1999 to just 2.6 percent in 2003.
Seattle public-health researchers pored over even more years of national hospital data, combing information on 459,000 women who gave birth, then narrowing the numbers down to those who had first cesareans without any medical reason or any labor. Between 1991 and 2004, they found only 309 such women.
Childbirth Connections, a maternity-care advocacy organization, sponsored a national survey of 1,500 women who gave birth in 2005.
"Only one woman met the criteria for maternal-request cesarean," said Boston University's Declercq, the lead author of the survey analysis. "We figured we'd have maybe 20 women."
Plus-size fears
Study after study has found that obese women are more likely than thin ones to develop serious complications in pregnancy. They are also more likely to have babies born with debilitating spinal-cord defects, prematurely, or "macrosomic" - 10 pounds or more.
These factors give an obese woman up to a 50-50 chance of cesarean, which, because of her weight, will not be easy.
"I have huge anxiety for these women," said Laura Riley, an high-risk obstetrician-gynecologist at Massachusetts General Hospital in Boston. "On one hand, I applaud them for wanting a vaginal birth. But I'm fearful because not only do you labor a long time, it's a big baby, it's hard to establish how big the baby is, then you end up with a failed vaginal delivery. And then the C-section is harder, there's greater blood loss, greater danger of infection in the incision. In addition, there's greater risk for a DVT [deep-vein blood clot] or pulmonary embolism than with someone who's thinner and up and out of bed faster."
Prodded by Riley, the American College of Obstetricians and Gynecologists two years ago issued guidelines that say obstetricians should warn patients about these risks and encourage weight loss "before attempting pregnancy."
"We need to fess up that this is a medical problem," Riley said. "It's not about passing judgment on women who don't look like they belong on the cover of Cosmo."
Yet for plus-size women, that's too often exactly what it seems like.
Maria Barroso, 23, of Queens, N.Y., is 5-foot-5 and 325 pounds. When she got pregnant in 2004, she and her husband were thrilled.
Her doctors were nervous. They warned her, she said, that she was likely to develop gestational diabetes. And even though estimates of fetal weight are notoriously inaccurate and don't justify a cesarean, "they kept telling me I was going to have a big baby, and that many plus-size women can't have a baby naturally."
She wound up with a cesarean she thinks could have been avoided.
In 2005, newly trained as a birthing coach and under a different doctor's care, Barroso gave birth to her second child vaginally. She labored for 26 hours.
"I stuck it out 'cause I didn't want the recovery I had had the year before," she said. "I knew that unless my life or my son's life was in danger, I was going to give birth vaginally."
Barroso's experience raises the question: Are changing demographics fueling first-time C-section rates?
Declercq and his Boston University colleagues used birth-certificate data to examine two periods: 1991 to 1995, when first-time cesareans decreased slightly, and 1996 to 2002, when they shot up like uncorked champagne. The researchers looked at maternal, fetal and labor-delivery factors - incompetent cervixes, dysfunctional placentas, diabetes, genital herpes, breech position, macrosomic size, and much more.
The fall and rise of first-time cesareans "were not related to shifts in maternal risk profiles," they concluded.
A similar analysis in Puerto Rico also found no link between risks and rates.
Specter of lawsuits
In Chinese tradition, July is the "ghost month," when spirits come out from the lower world to visit earth.
Because many Chinese believe July is an inauspicious time for any type of surgery, researchers at Taipei Medical University looked at cesarean rates.
Sure enough, in a study published last year, they found cesareans were unusually low in July - and unusually high in June.
While the United States doesn't have a ghost month, the specter of lawsuits heavily influences the use of cesarean.
At Lankenau, for example, the cesarean rate rose from 28 percent in 2001 to 36 percent the very next year. The jump was largely triggered by a lawsuit contending that a child was born with cerebral palsy because a cesarean was not performed. The parents won a $24 million verdict.
"You can imagine there is that fear of what can happen," said Nancy Roberts, the chief of obstetrics.
A Pennsylvania State University College of Medicine study of 31 hospitals found that the more physicians perceived they were at risk of being sued, the more cesareans they did.
The fallacy behind this phenomenon is that a cesarean is a guarantee against unhappy outcomes. It isn't.
"It's not going to get you out of anything," said Raymond Brown, a longtime Temple University Hospital obstetrician-gynecologist who said his cesarean rate was about 15 percent. "But at least they aren't going to say, 'You could have prevented this by doing a cesarean.' "
Many obstetricians argue that their patients are the ones who have developed an extreme, almost unreasonable, aversion to the tiniest risk. This pushes doctors to do more just-in-case cesareans. For example, to prevent one 10-pound baby from shoulder nerve damage during vaginal birth, they have to surgically deliver 3,700 macrosomic babies, according to a March editorial in the New England Journal of Medicine.
These debates would not matter so much if it were clear that the surge in surgery was good for patients.
But it is not clear.
While studies find that a woman's risk of death from cesarean is remote - not to say as low as with vaginal birth - the recovery time is much longer, and hemorrhage, infections, dangerous clots and rehospitalizations are more common.
Cesarean also poses risks to future pregnancies. Evidence is growing that uterine scarring can cause placental abnormalities that endanger mother and baby, and that the risk of these abnormalities increases dramatically with each subsequent cesarean.
Life-threatening situations have become so common, "you'd be hard-pressed to find an obstetrician who doesn't know the terror of these near-misses," said Carol Sakala, director of programs for Childbirth Connection.
Newborns, meanwhile, are more likely to have temporary respiratory difficulties after a planned cesarean.
Planned cesareans may even be contributing to the mysterious, dramatic increase in premature births. That's because a baby who is estimated to be full term may actually be weeks younger.
"We are foreshortening gestational age . . . with a giant social experiment," Sakala said.
So far, though, there is little to stop the trend, even in places that have jaw-dropping cesarean rates.
In New Jersey, Charles Denk, an epidemiologist with the state Department of Health and Senior Services who has analyzed cesarean data, said the Garden State was "riding the same wave as everybody else" - albeit with a faster surfboard.
"Physicians decide the benefits outweigh the risks," he said. "As long as there is that perception, the rates will continue to go up."
---
View a slide show and hear an interview
on the risks and benefits of cesarean delivery with obstetrician Jeffrey Ecker via
http://go.

philly.com/health
---
Contact staff writer Marie McCullough at 215-854-2720 or
mmccullough@phillynews.com
.
by
Add your quick reply below:
You must be a member to reply to this post.
Replies (1-1):
Add your quick reply below:
You must be a member to reply to this post.