White Bean Spinach Soup-quick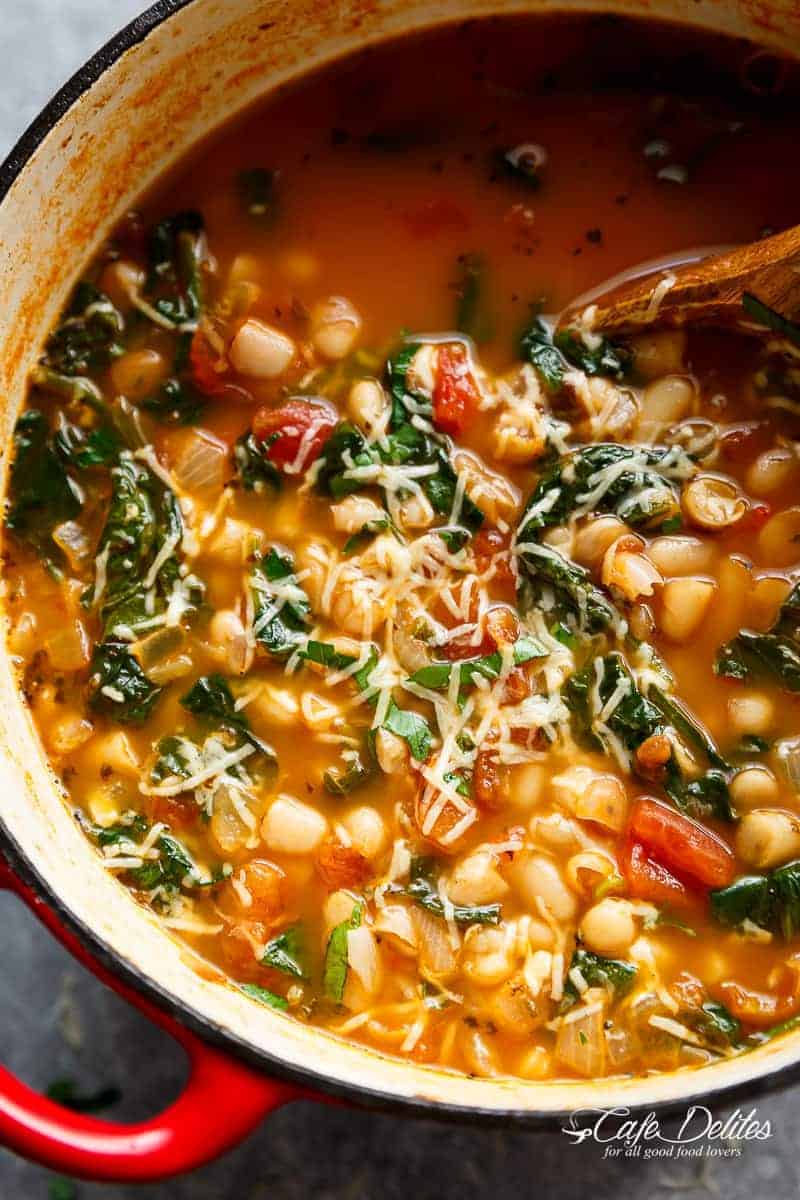 10-Minute White Bean Parmesan Spinach Soup
White Bean Parmesan Spinach Soup ready in 10 minutes is may kind of soup! Make a double batch and have plenty of leftovers for the weekly dinner rush!
Course: Dinner, Soup
Cuisine: American
Calories: 87 kcal
Ingredients
1 tablespoon olive oil
1 yellow onion , diced
6-8 cloves garlic , minced
6 cups vegetable broth (or stock)
1 (15-ounce | 420-g) can diced tomatoes, drained*
1 teaspoon sugar
3/4 cup freshly grated Parmesan cheese
1 tablespoon Italian dried herbs
1 teaspoon kosher salt
½ teaspoon black pepper
4 (15-ounce) cans white beans (cannellini beans), drained and rinsed
4 cups baby spinach (about 6 oz.)
½ cup fresh grated Parmesan cheese , (for serving)
3 tablespoons chopped fresh flat-leaf parsley
Instructions
In a large pot or saucepan, heat olive over medium high heat. Add onion and garlic; cook until onions are translucent and garlic is fragrant (about 2-3 minutes), while stirring occasionally. Add in the broth, tomatoes, sugar, 3/4 cup of parmesan cheese, Italian herbs, salt and pepper.

Bring to a boil, reduce heat and simmer for 5 minutes to combine all of the flavours together.

Stir in the cannellini beans and spinach, and continue to simmer gently until the spinach has wilted, (about 2 minutes). Stir in the parsley and season with extra salt and pepper, to taste, if desired.

Serve immediately.
Recipe Notes
*Substitute canned tomatoes for 3 fresh tomatoes, diced

by
Add your quick reply below:
You must be a member to reply to this post.
Replies:
There are no replies to this post.