Lauren Holly aka Director Jenny Shepard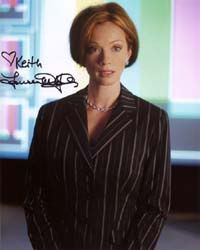 When Lauren Michael Holly was born in Bristol, Pennsylvania, Oct. 28, 1963, it seemed inevitable that the young girl would end up being a college professor or perhaps a teacher, but certainly not an actress. With both of her parents working as professors at esteemed Northeastern arts colleges, it seemed hard to believe that she would follow any other path.

When she enrolled at the prestigious Sarah Lawrence College to pursue an Arts degree in English literature, it seemed as though the junior Holly was on track to follow the seniors.

After graduating in 1985, Lauren made the risky decision to move to Los Angeles and pursue her dream of becoming an actress. It took a little less than a year of paying her dues before she landed a role on the soap opera, All My Children. After an extremely successful three-year run as Julie Rand Chandler, Lauren landed her first starring role as Betty Cooper in the feature length made-for-TV movie, Archie: To Riverdale and Back Again.

Her small-screen projects helped her make a name for herself, and she was given the chance to prove her ability on the big screen in the Andrew Dice Clay cult-classic, The Adventures of Ford Fairlane. As with most cult classics, the film was far from a box-office smash. Rather than let the film force her into obscurity, Lauren returned to television in 1992 as Maxine Lacos on the critically acclaimed series, Picket Fences.

With seven years of acting experience under her belt, Lauren was still waiting for her chance at a breakout role. In 1993, her prayers were answered as she was given the chance to play Linda Lee, wife of Bruce Lee, in the highly successful biopic, Dragon: The Bruce Lee Story. Her portrayal garnered her critical acclaim and granted her the luxury of finally being able to pick and choose her roles. One role she passed on was opposite a former TV comic in the slapstick comedy that later became, Ace Ventura: Pet Detective. After she passed, Courteney Cox took her place and quickly became a star.

The following year, when Lauren was given another chance to star opposite the upstart Canadian comic in the gross-out comedy, Dumb and Dumber, she jumped at the opportunity. The film was a box-office smash and grossed over $200 million worldwide, and has been by far her most successful project. It was on the set of this production that she fell in love with Jim Carrey, whom she eventually married in 1996 and in true Hollywood fashion, divorced one year later.

Career wise, it seems as though Jim was her good luck charm. He was responsible for her most successful film, and while the two were dating she made Beautiful Girls and Sabrina, some of her more critically successful work. By late 1996, her marriage already starting to disintegrate, she appeared in the bombs Down Periscope and Turbulence.

Since then, Lauren has found success by playing supporting roles in major movies like Any Given Sunday and What Women Want. She has also started to take on starring roles in low budget and more artistic productions. Lauren also returned home to television, with a recurring character on the hit drama Chicago Hope, and a starring role in the Women of Camelot miniseries.

As for her personal life, Lauren remarried in March of 2001 to investment banker Francis Greco (no relation to Richard), and adopted a son in June of the same year. She is still acting and has two films scheduled for release in 2002; Colored Eggs, a film adaptation of a popular play, and Don't You Cry For Me, opposite Alan Arkin.
At age 23, Holly joined the cast of the iconic ABC television soap opera All My Children as Julie Chandler (1986–1989). She portrayed the comic book character Betty on television's Archie: To Riverdale and Back Again in 1990.
Perhaps her best known film role came as Mary Swanson, Lloyd Christmas's love interest in the 1994 Jim Carrey comedy Dumb & Dumber. She also portrayed Linda Lee Cadwell, the wife of martial artist and actor Bruce Lee, in 1993's Dragon: The Bruce Lee Story; a doctor in Sydney Pollack's 1995 remake of Sabrina; and Lieutenant Emily Lake, the only woman aboard a submarine, in the 1996 Kelsey Grammer comedy Down Periscope. She also starred in the movie Any Given Sunday along with Jamie Foxx and Dennis Quaid.
She also appeared in the music video for Dixie Chicks' single "Goodbye Earl", along with Jane Krakowski, Dennis Franz, Adrian Pasdar, Michael DeLuise and Evan Bernard.
Holly starred as small-town Deputy Sheriff Maxine Stewart in David E. Kelley's TV series Picket Fences. In 2005, she joined the cast of NCIS as Director Jenny Shepard, and in doing so was reunited with her former Chicago Hope co-star Mark Harmon.
[edit] Filmography
[edit] Television
[edit] Music videos
by
Add your quick reply below:
You must be a member to reply to this post.
Replies:
There are no replies to this post.