Current Events & Hot Topics
Is It OK to Hate Vick NOW?!
BET Goes to the Dogs With Michael Vick Reality Show
Wed., Oct. 7, 2009 1:36 PM PDT by Gina Serpe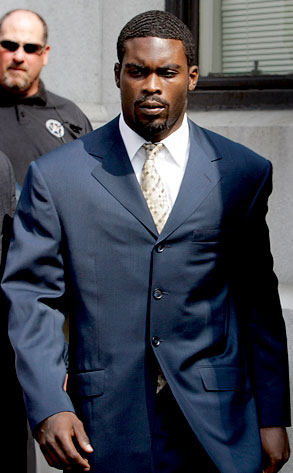 AP PHotoSteve Helber, Pool
If BET is looking to counter-program against Cesar Millan, well, job done.
If they're looking to find a sympathetic audience for Michael Vick's newly announced reality show, well, they certainly have their work cut out for them.
According to the Los Angeles Times, the freshly reinstated (sorry, Kendra & Hank) NFL star will feature in an eight-part documentary-style reality show to air early next year on the cable net.
The show, tentatively if not creatively titled The Michael Vick Project, will follow the dogfighting ringmaster as he joins up with the Philadelphia Eagles, rebuilds relationships with his fiancée and kids and attempts to make amends-presumably of both the court-ordered and PR-advised variety-for his 2007 arrest.
"I just want people to really get to know me as an individual," he told the paper. "What I want to do is change the perception of me. I am a human being. I've made some mistakes in the past, and I wish it had never happened. But it's not about how you fall, but about how you pick yourself up."
And it just so happens Vick will be picking himself up with help from a possibly lucrative TV contract and a rather unexpected supporter.
Potential Very Special Episodes will revolve around his revisiting the federal prison where he served 18 months and the Virginia property on which he ran the inhumane operation.
PETA, as expected, has already spoken out in opposition to the series and, more specifically, to the idea of Vick profiting in the wake of his atrocious acts. There's no word on how much Vick, whose company is also coproducing the show, is being paid.
Somewhat surprisingly on Vick's side-in addition to the Eagles-is the Humane Society, which has recruited the footballer to help in their campaign to end inner-city abuse of dogs.
http://www.eonline.com/uberblog/b147846_bet_goes_dogs_with_michael_vick_reality.html
For all those people who said- he served his time, let him play, leave him alone, blah, blah, blah... Is it ok to despise him now? Now that he is going to make a reality show and make money off this? I get that he is helping the Humane Society, which he should be, but now he is directly profitting because of what he did and the 'trouble' he has to go through. Ugh.
An army of principles can penetrate where an army of soldiers cannot. ~Thomas Paine

by
Add your quick reply below:
You must be a member to reply to this post.
Replies (1-10):
Add your quick reply below:
You must be a member to reply to this post.