Current Events & Hot Topics
Exhibit tells the story of Nazi persecution of gays
The William Way LGBT Community Center is telling one of the Holocaust's least-known stories - the Nazi persecution of homosexuals.
It's a story of men and women who were arrested and often sentenced to hard labor for what were called indecent acts. The victims were mostly men. Some faced judicial proceedings and criminal charges. Others were simply picked up by SS officers and locked away in concentration camps.
Through Friday, the center is displaying "Nazi Persecution of Homosexuals: 1933-1945," a traveling exhibition of 32 large panels featuring reproductions of historic photographs and documents. It is organized and circulated by the U.S. Holocaust Memorial Museum in Washington.
The exhibit debuted at the museum in November 2002. It has since been on view twice in Los Angeles and once in Pittsburgh, Chicago, Atlanta, and nearly two dozen other cities.
Having the exhibit in Philadelphia "has been really rewarding," said Candice Thompson, director of center service at William Way, a nonprofit organization that has been providing advocacy and support services for 30 years.
The panels around the perimeter of the display room, in the center's second-floor ballroom, detail why the Nazis saw homosexuality as a danger to society and how they tried to eliminate it.
It says the Nazis believed homosexuality was a threat to the Aryan race, could be transferred genetically, and was contagious.
The Washington museum contacted various organizations here just over a year ago about hosting the exhibit. The center jumped at the opportunity, Thompson said, seeing an opportunity to educate people both in the LGBT community and outside.
"Education is so important," Thompson said. "We've been a silent minority. We are now able to look at our history, and reflect and understand it better."
One panel details Paragraph 175, a law banning homosexual behavior in Germany. Ted Phillips, the exhibit's curator in Washington, said it had grown from a law in Prussia in the 18th century.
"When Germany unified those states in 1871, it became the law of the German Reich," he said. The law was named Paragraph 175 in 1935 when the Nazis revised it.
The original law, Phillips said, was interpreted narrowly by the courts, and specified "unnatural relations between men." The Nazis rewrote the law in "such a way that Nazi courts interpreted the law extremely broadly," Phillips said. "Any kind of act between men could become criminal. The original law was difficult to prosecute. The new law was very easy."
By 1938, even looks or touching between men could be criminalized.
Phillips said punishment under the original law was up to two years in prison. Punishment under the Nazis ranged from sentences of three or four months to longer sentences, which usually meant hard labor. But some homosexuals were sent to concentration camps without judicial proceedings.
The law did not mention homosexuality between women. Thompson said that was because gay women can still procreate. Lesbians were also seen as less of a threat because women did not have much political power.
The last set of panels discusses the aftermath of the Holocaust.
"It's shocking," Thompson said. "Even after liberation, Paragraph 175 was still on the records. Homosexuals were taken from concentration camps and rearrested."
Phillips said that after the war, East Germany went back to the original version of Paragraph 175, but West Germany retained the Nazi version until 1969. After 1969, "watered-down versions" were implemented, Phillips said. It wasn't until Germany's reunification that the law was abolished.
The number of homosexuals persecuted by the Nazis is difficult to pin down, Phillips said. It is estimated that from 5,000 to 15,000 were in concentration camps.
At one point in the war, "men held in penitentiaries were shifted to concentration camps because [the camps] were a major industrial force, labor force," Phillips said. That exact number can't be identified, either.
Thompson said the exhibit had been well-received. More than 200 people attended its opening reception last month.
"One of the surprising parts for me is how many people outside the community were really interested and thankful we have the exhibit," Thompson said.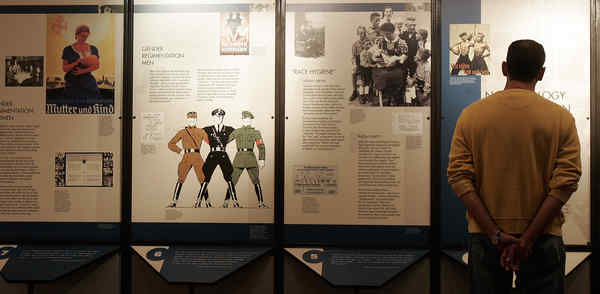 BONNIE WELLER / Staff Photographer
by
Add your quick reply below:
You must be a member to reply to this post.
Replies (1-10):
Add your quick reply below:
You must be a member to reply to this post.