Current Events & Hot Topics
Hot Topic (12/3): Did she decide to be a lesbian?
Family Ties's Meredith Baxter: 'I'm a Lesbian Mom'
By Blaine Zuckerman
Wednesday December 02, 2009 08:15 AM EST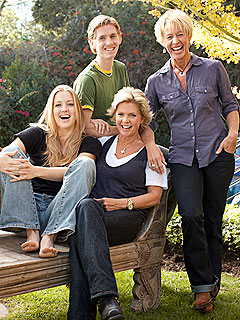 Meredith Baxter (seated) with her twins Mollie and Peter and partner Nancy Locke
Most people know Meredith Baxter as Elyse Keaton, everyone's favorite mom from the hit '80s sitcom Family Ties. But now the actress reveals to PEOPLE that she's ready for the world to see her in a different - and surprising - way: "I'm a lesbian mom," she says.

Before Baxter, 62, first started dating women seven years ago, the thought of being gay "had never crossed my mind," she tells PEOPLE. Having been in three failed marriages to men (most famously to actor David Birney), she says of her many difficult years before coming out, "I was never comfortable with myself." But she's quick to add, "That doesn't mean I was questioning."

Now in a four-year relationship with building contractor Nancy Locke - the couple have lived together for two years - the actress, who continues to act and run a skincare company, says, "I feel like I'm being honest for the first time."

Baxter was open about her new-found identity almost immediately with her five kids. Her son Peter's reaction, like that of his siblings, was both reassuring and supportive. "I just couldn't stop smiling," says Peter, 25, "because she finally figured it out."
* * *
Is sexuality a choice?
Or genetic?
Or somewhere in between?
What do you think?
by
Replies (31-39):
Add your quick reply below:
You must be a member to reply to this post.