Current Events & Hot Topics
Feds join probe of alleged Mississippi hate killing
Editor's note: The following story contains language some readers may consider offensive.
Jackson, Mississippi (CNN) -- A hit-and-run killing that took place after a group of white teens allegedly set out to kill a black man simply because of his color is now being investigated by the U.S. Justice Department, federal and Mississippi officials tell CNN.
The killing, which a Jackson, Mississippi, district attorney says is a racially motivated hate crime, sparked national attention after CNN obtained and aired exclusive surveillance video

that shows the attack as it took place.
James Craig Anderson, 49, was first beaten by the group of teens as he stood in a hotel parking lot early on the morning of June 26, according to some of the teens who were interviewed by police.
After the beating, a group of the teens drove a large Ford pickup truck over Anderson, according to witnesses and officials. Anderson died from his injuries later the same day.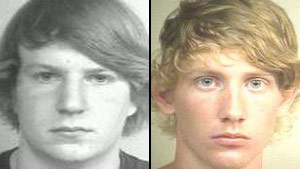 Deryl Dedmon Jr., right, could face two life sentences in connection with the killing. John Aaron Rice, left, has been charged with simple assault.
Federal investigators are in Jackson at the request of Hinds County District Attorney Robert Shuler Smith, who says he will be seeking indictments against some or all of the white teens in coming weeks.
"This was a racially motivated murder, committed because the victim was black. We want to prosecute and bring justice in this case to the fullest extent of the law," said Smith, explaining that he called Justice Department officials and asked for more investigators to come to Mississippi to help interview witnesses and pursue leads in the crime.
Under federal law, authorities can pursue further charges and punishment if it is determined that a crime was racially motivated. Officials from the U.S. Department of Justice confirmed to CNN that "the department has an ongoing investigation."
The group of teens that night was led by 18-year-old Deryl Dedmon Jr., of Brandon, Mississippi, according to police and officials in the DA's office.
Dedmon, who was arrested and charged with murder, is being held in Jackson. He could face two life sentences in connection with the killing.
Another teen, John Aaron Rice, was also charged with murder at first, until a judge reduced his charges because Rice was not believed to be driving the vehicle used to kill Anderson.
Smith and officials in the Hinds County District Attorney's office say they plan to indict both Dedmon and Rice for murder and a hate crime.
Attorneys for Dedmon and Rice did not return CNN's calls.
During a bond hearing, Dedmon's attorney told the court he saw nothing to back up the "racial allegations."
Neither teen has pleaded yet, and none of the other teens has been charged.
But Hinds and officials from the DA's office say they hope to bring indictments against not only Dedmon and Rice, but also other teens who were in their cars and part of the attack that early morning.
DA: Video shows white teens driving over, killing black man
Dedmon led and instigated the attack, according to officials; he took part in and led the beating of Anderson, and Dedmon was also the driver of the Ford 250 truck that served as the murder weapon, according to officials.
Before the murder, as the teens were partying and drinking miles away from Jackson that night, in largely white Rankin County, Dedmon told friends they should leave, saying, "Let's go fuck with some n*edited*rs," according to law enforcement officials.
Then the gang of teens climbed into Dedmon's green truck and a white SUV Cherokee and drove 16 miles down Interstate 20 to the western edge of Jackson, a predominantly black area.
The teens would have seen Anderson immediately as they exited the highway, because the parking lot where he was standing is just beside the exit ramp.
"This is the first business that you get to coming off the highway and so that was the first person that was out here and vulnerable," said Smith.
On the videotape, obtained and reviewed by CNN, a truck is seen pulling into the parking lot and stopping where Anderson is standing, though he is just off camera and not visible.
Teens can then be seen going back and forth between their cars and Anderson.
Watch the video (contains graphic images; discretion advised)

Witnesses told law enforcement officials this is when the repeated beatings of Anderson took place. Dedmon pummeled Anderson repeatedly as he crumpled to the street, according to officials, though this is not visible in the videotape.
After the beating, some of the teens left and some got into the truck.
At this moment on the video, Anderson becomes visible, as he staggers into view and walks toward the headlights of the truck. The truck suddenly surges ahead, running over Anderson, then continues at high speed away from the scene.
Shortly after he allegedly drove the truck over Anderson, Dedmon allegedly boasted and laughed about the killing, according to the testimony of police detectives who interviewed the teens.
"I ran that n*edited*r over," Dedmon allegedly said in a phone conversation to the teens in the other car. He repeated the racial language in subsequent conversations, according to the law enforcement officials.
"He was not remorseful. He was laughing, laughing about the killing," said district attorney Smith.
Watch Anderson Cooper 360° weeknights 10pm ET. For the latest from AC360° click here.
http://www.cnn.com/2011/CRIME/08/17/mississippi.hate.crime/index.html?eref=mrss_igoogle_cnn
by
Add your quick reply below:
You must be a member to reply to this post.
Replies (1-1):
Add your quick reply below:
You must be a member to reply to this post.