Current Events & Hot Topics
Rick Perry's Next Controversial Execution Comes Thursday
Rick Perry's Next Controversial Execution Comes Thursday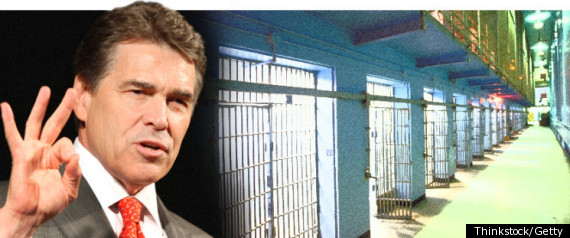 Having devoted significant attention to Rick Perry's role in the execution of Cameron Todd Willingham, let's turn our attention to what could potentially be Rick Perry's next controversial execution -- Duane Edward Buck's, currently scheduled for Thursday. The Buck case, it should be noted, is dissimilar from the Willingham case in many vital ways -- the most important being that prosecutors proved beyond a reasonable doubt that Buck committed the 1995 double murder with which he was charged. Nevertheless, there are some interesting parallels.
The controversy in Buck's case stems from potential malpractice that occurred during the sentencing stage of his trial. Here, we kick things over to Tim Murphy of Mother Jones, who's been giving this matter considerable attention:
Prosecutors firmly established Buck's guilt, but to secure a capital punishment conviction in Texas they needed to prove "future dangerousness"—that is, provide compelling evidence that Buck posed a serious threat to society if he were ever to walk free. They did so in part with the testimony of a psychologist, Dr. Walter Quijano, who testified that Buck's race (he's African American) made him more likely to commit crimes in the future (Quijano answered in the affirmative to the question of whether "the race factor, [being] black, increases the future dangerousness for various complicated reasons.")
As you might imagine, the way in which Quijano made the blanket assertion that race was a determining factor in assessing future criminality is a wee bit untenable, constitutionally speaking. As Murphy reported, back in 2000, when Sen. John Cornyn (R-Texas) was Texas' attorney general, he caught wind of a similar controversy in the sentencing phase of an Argentinian man named Victor Saldano. Cornyn recognized the problem, sought and won the right to retry the case, and compiled a list of cases in which the death penalty had been assigned based on similar race-based theories of criminality. Per Murphy, all of the cases Cornyn identified have been retried, save for Buck's.
If you're familiar with the Willingham case, you are probably asking yourself, "What's wrong with the forensic psychiatrists they're relying on in Texas?" Willingham didn't have to worry about his race being thought of as a factor in future criminality, but there was still recognizable malpractice to be found. As David Grann reported back in 2009, Willingham's prosecutors relied on two forensic psychiatrists to offer a profile of Willingham. Neither man actually met with Willingham. One, Tim Gregory, harped on the fact that Willingham owned an Iron Maiden poster, with which he attributed to Willingham an unnatural obsession with "death, dying" and "satanic-type activities." The other psychiatrist, James P. Grigson...well, he was a piece of work:
He testified so often for the prosecution in capital-punishment cases that he had become known as Dr. Death. (A Texas appellate judge once wrote that when Grigson appeared on the stand the defendant might as well "commence writing out his last will and testament.") Grigson suggested that Willingham was an "extremely severe sociopath," and that "no pill" or treatment could help him. Grigson had previously used nearly the same words in helping to secure a death sentence against Randall Dale Adams, who had been convicted of murdering a police officer, in 1977. After Adams, who had no prior criminal record, spent a dozen years on death row—and once came within seventy-two hours of being executed—new evidence emerged that absolved him, and he was released. In 1995, three years after Willingham's trial, Grigson was expelled from the American Psychiatric Association for violating ethics. The association stated that Grigson had repeatedly arrived at a "psychiatric diagnosis without first having examined the individuals in question, and for indicating, while testifying in court as an expert witness, that he could predict with 100-per-cent certainty that the individuals would engage in future violent acts."
So it would seem that Texas has something of a troubled history with psychiatric determinations of future criminality. Of course, in the Willingham case, it wasn't these psychiatrists who convinced Rick Perry that Willingham was an "exteremely severe sociopath" -- their testimony was for the jury's consumption. The guy who helped convince Perry was Willingham's own defense attorney, David Martin -- and Perry was not shy about citing Martin's opinion as a reason to not offer clemency.
This raises an interesting question, though: If Perry's willing to listen to a defense attorney in this fashion, would he be swayed by a prosecutor? Because one of the prosecutors in Buck's case is trying to get Perry to listen to him. Per Murphy: "Last week, one of the Harris County prosecutors who helped secure Buck's conviction wrote a letter to Perry urging him to grant a re-trial."
This past Monday, Texas Board of Pardons and Paroles turned down Buck's clemency request, so now it's up to Rick Perry or his current attorney general, Greg Abbott, to grant a stay of execution and retry the case according to Cornyn's original plan. What are the odds this will happen? Over at Salon, Alex Pareene suggests it's a long-shot: "As we have seen, killing lots and lots of people is one of the things about Rick Perry that Republican voters love, so I can't imagine he'll grant clemency or even delay the sentence." Of course, all of the controversy Perry generated during the recent MSNBC/Politico debate could spur Perry to do something for the sake of putting the matter to bed, and Perry could grant the stay with some confidence that Buck could still be potentially sentenced to death on retrial. Nevertheless, I fear that Pareene is right.
READ MORE:
Rick Perry Has 234 Executions Under His Belt. Will He Make It 235 on Thursday? [Mother Jones]
by
Add your quick reply below:
You must be a member to reply to this post.
Replies (1-4):
Add your quick reply below:
You must be a member to reply to this post.