Current Events & Hot Topics
What I'm really thinking: The bisexual woman
What I'm really thinking: The bisexual woman
'Lesbians will tell me it's a phase, and straights a passing "bi-curiosity" '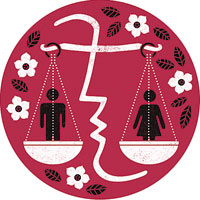 When I'm with a man, people assume I'm straight and when I'm with a woman they assume I'm a lesbian. Even if I tell them I'm bisexual, they will deny it (on my behalf). Lesbians will tell me it's a phase, and straights a passing "bi-curiosity". It is hard for most people to accept that some of us have the capacity to love and lust after both sexes.
I've known I'm bisexual for 20 years, yet it still makes me furious when people say they'd never date a bisexual – it's hard to imagine them quite so openly saying they could never date a black person. It happens often, mostly from women who love women, who should know better. The reasons often repeated are that we're promiscuous, indecisive, incapable of commitment – none of which I've seen more of in bisexual friends than in gay or straight ones. My favourite is that I'm self-indulgent in wanting to have my cake and eat it, which seems to come from a place of twisted jealousy. Lesbians fear me leaving them for men more than women; men get excited by the prospect of a threesome, then freak out when they realise that I like women for more than just their pleasure.
Most of my close female friends are bisexual, and have a variety of relationship histories. Long committed relationships with men and women. When I'm feeling arrogant, I think that our tribe of "fence-sitters" is the next evolution of human sexuality. One day people will realise there is more to love and lust than choosing a partner based on their genitals.
by
Add your quick reply below:
You must be a member to reply to this post.
Replies (1-10):
Add your quick reply below:
You must be a member to reply to this post.