Current Events & Hot Topics
Fining parents for absent students? Agree or Not?
Oregon City schools taking parents to court when kids skip class
Posted: May 24, 2012 10:25 PM PDTUpdated: May 25, 2012 8:07 AM PDT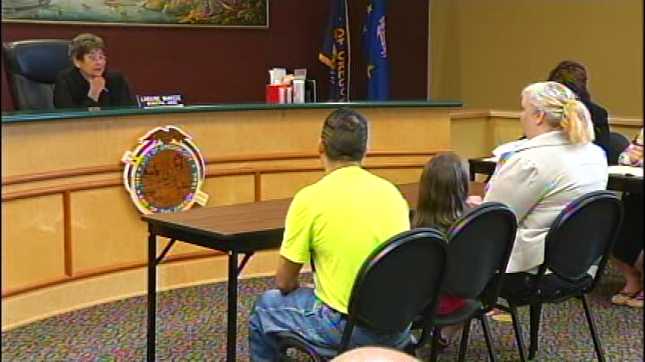 OREGON CITY, OR (KPTV) -
A local school district is hoping to keep kids in the classroom by taking their parents to court.
The Oregon City School District is trying out a new program to tackle the problem of poor attendance by issuing citations to parents of students who skip class. If schools have no luck trying to solve the problem, they send the most extreme cases to Municipal Judge Larain McNiece.
The student's parents are then issued a citation and required to appear in court where they could be fined about $160. It's a program called Attendance Court.
"This is the most inconvenient thing in my life right now," said parent Dixie McCoy. "I had to leave work to come here, all because my son can't go to school."
McCoy was shocked when she got a citation for her high school son's absences.
"Especially when I thought he was going," she said. "Because I was taking him to school and he was taking it upon himself to leave."
McNiece decided not to fine McCoy as long as her son doesn't miss any more class. McCoy's son thinks the program is working.
"I think they are trying to scare kids into going to school so their parents don't have to pay for their consequences," said Lathan Lakoduk. "That's what happened to me."
More than eight unattended absences is a violation of the law.
McNiece said she usually doesn't fine the parents right away. Instead, she gives them and their child a chance to come up with a solution to the problem.
"I'm really looking to the student, the parent and the school district for us to come up with something viable," said McNiece. "Then I have the opportunity to make than an order and I've got the ability to impose fines if it fails."
While Attendance Court is new to Oregon City schools, McNiece said it has been very successful in other local school districts that have tried it.
Copyright 2012 KPTV (Meredith Corporation). All rights reserved.
by
Add your quick reply below:
You must be a member to reply to this post.
Replies (1-10):
Add your quick reply below:
You must be a member to reply to this post.