Current Events & Hot Topics
CEO emails 7,000 employees: Defeat Obama or else *EDIT* Some background info added to post for context
CEO emails 7,000 employees: Defeat Obama or else
@CNNMoney October 10, 2012: 10:21 AM ET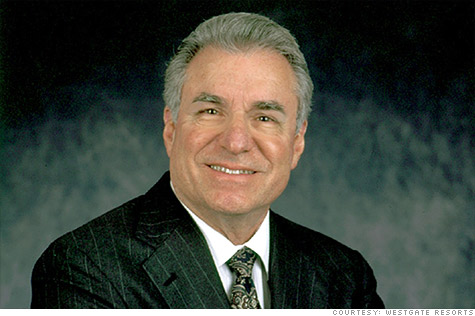 David Siegel, CEO of Westgate Resorts, warned employees that they may lose their jobs if President Obama wins re-election.
NEW YORK (CNNMoney) -- Surprise. David Siegel, the resort CEO who is building the biggest private home in the country, really, really doesn't like President Obama.
And while Siegel hasn't sent any money to Republican presidential candidate Mitt Romney, he has gone a step farther to support him.
On Monday he sent an e-mail to all 7,000 employees of privately-held Westgate Resorts, many of them in the battleground state of Florida, warning them their jobs are at risk if the president is re-elected.
"The economy doesn't currently pose a threat to your job. What does threaten your job however, is another 4 years of the same Presidential administration," he said in the e-mail. (Track economy under Obama)
"If any new taxes are levied on me, or my company, as our current President plans, I will have no choice but to reduce the size of this company," he says in the nearly 1,400-word e-mail. "Rather than grow this company I will be forced to cut back. This means fewer jobs, less benefits and certainly less opportunity for everyone."
Related: Stop beating up the rich
Siegel doesn't mention Romney's name anywhere in the e-mail, and he writes he "certainly wouldn't interfere with your right to vote for whomever you choose." And he insisted Tuesday that he wasn't threatening to fire employees if Obama is re-elected. But he proudly stands behind the e-mail.
"I wanted the employees to know what the situation is, and not listen to campaign commercials but hear it from the horse's mouth," he told CNNMoney.
Siegel actually has been hiring in recent years.
He said Westgate had 12,000 employees and $1 billion in annual revenue four years ago, before the financial meltdown caused credit markets to freeze up. "We were fat, dumb and happy," he said.
Employment at the company dropped as low as 5,000 and revenue fell by 50% at the worst point during to the credit crunch. Jobs have bounced back by about 40% since then, but Siegel said he doesn't believe the company can continue to thrive if taxes are raised and Obamacare is put into place.
Siegel based his e-mail on an anti-Obama letter that was widely circulated before the 2008 election, but he said he made many changes, adding many of his own views and personal history. He is particularly angry by what he sees as unfair attacks on the nation's wealthiest by the Obama administration, which is seeking to raise taxes on top earners.
Related: The candidates and your taxes
"What most people see is the nice house and the lavish lifestyle. What the press certainly does not want you to see, is the true story of the hard work and sacrifices I've made," he wrote. "Now, the economy is falling apart and people like me who made all the right decisions and invested in themselves are being forced to bail out all the people who didn't...We are being taxed to death and the government thinks we don't pay enough.'
He acknowledged his 90,000-square foot home now under construction in the letter. The home is the subject of a critical documentary, "The Queen of Versailles."
Siegel said he was forced to stop work on the home four years ago because he had to pour all his money back into the company during the lean years, but that he's ready to start work on the home again -- assuming Obama is defeated.
"If the wrong people stay in power, I'll have to stop it again," he told CNNMoney. "I don't see a good future."
More about this man:
Fallen biz king & queen try to unload Fla. 'Versailles'
By LEONARD GREENE
Last Updated: 3:27 AM, July 18, 2012
Posted: 2:44 AM, July 18, 2012
"The Queen of Versailles," a documentary chronicling the attempt of Floridians David and Jackie Siegel to build the largest home in the nation at 90,000 square feet, debuted at Sundance in January. The film opens in New York City Friday.

They take a limousine to McDonald's, own his-and-her Segway scooters and have designed their new house with 23 bathrooms, each equipped with Jacuzzi tubs.

If the question is how much material validation is enough for the modern American billionaire couple, the answer in the case of David and Jackie Siegel was relatively simple: More than you could ever imagine.

Lauren Greenfield
MOTHER OF ALL MANSIONS: Time-share magnate David Siegel, 77, and trophy wife Jackie, 46, set about to build a 90,000-square-foot mansion (above) in Orlando, which would be the largest home in the United States. But then the national economy tanked and construction ground to a halt. The couple and their eight kids, however, aren't about to end up destitute.
Lauren Greenfield
NAPOLEON COMPLEX: The cavernous grand-stairway space of David Siegel's still-unfinished home is modeled on a rendition (pictured at left) of a palace fit for a king. Siegel and wife Jackie say that if they can't unload the property, they may still move in.
AP
David Siegel, 77, and trophy wife Jackie
Time-share magnate David, 77, and his beauty-queen trophy wife, Jackie, 46, were already Orlando's gaudiest couple when they decided to open their doors to filmmaker Lauren Greenfield as they broke ground on a 90,000-square-foot monster home with a 120-foot Grand Hall modeled after France's Palace of Versailles.

It's bigger than a 747-jet hanger. Designs include three swimming pools, 10 kitchens, a bowling alley, a skating rink and a garage that fits 20 cars. The home's mahogany doors and windows alone cost $4 million.

"We never sought to build the biggest house in America," Jackie says in the film, titled "The Queen of Versailles." "It just happens."

It has been described as tacky, trashy and tasteless, with the top three floors inspired by Las Vegas' Paris Hotel.

In the film, David and Jackie feel squeezed into the 26,000-square-foot mansion that serves as their base while construction is under way — with their eight children, 19 staffers, four dogs and five cats.

But they can't manage with less. The Siegels had never changed a diaper or cleaned up after their pets.

David works hard. Jackie hits the gym and shops. They buzz around on their jet. They are a pretty amusing couple.

"There's 30 years between us," Jackie brags. "But he doesn't need Viagra."

David, meanwhile, likes to joke that his wife could easily be traded in for two 20-year-olds.

One of Jackie's sons, referring to his mother's surgically enhanced chest, calls her "the hostess with the two mostest."

Sitting on a throne in a scene from the film, David says, "I got George W. Bush elected . . . I'd rather not say [how]. It may not necessarily have been legal."

And they plow ahead with their ridiculous mansion.

"That's not my room," Jackie tells a visitor as she inspects the progress. "That's my closet."

Then the bottom falls out, and their dreams of building the largest house in America run into the wrecking ball of a collapsing economy.
See photos of their house at this link:
http://www.dailymail.co.uk/news/article-2174738/The-King-Queen-Versailles-Couple-slash-price-Americas-biggest-family-home-10M-restart-construction-year-break-economic-downturn.html

by
Replies (31-40):
Add your quick reply below:
You must be a member to reply to this post.