Current Events & Hot Topics
LGBT Activists Cringe and Praise Jodie Foster Coming Out
Jan. 14, 2013
Advocates praised Jodie Foster's coming out on the televised stage of the Golden Globe Awards last night, but some said she had done little over the years to set an example for others who are LGBT and struggling.
BEST MOMENTS: The 2013 Golden Globes
"It was cryptic and defensive and we started thinking it was a joke," said Diane Anderson-Minshall, executive editor of The Advocate. "She sounded a little passive-aggressive to a lot of LBGT activists. This woman who obviously has been afraid to come out in the public sphere has been out in her private life for decades."
"By our stand, you are not out until you are publicly out," she said. "Even though she danced around being a lesbian, at least it's finally done."
FULL TRANSCRIPT: Jodie Foster's Golden Globes Speech
Some said her long-awaited coming out may have underscored the generation gap in the LGBT world.
Foster, who just turned 50, touched on her career, family and her sexuality while accepting the Cecille B. DeMille Award for lifetime achievement.
"I guess I have a sudden urge to say something that I've never been able to air in public that I'm a little nervous about," she said. "But maybe not as nervous as my publicist..."
"So I'm just going to put it out there, loud and proud. I'm going to need your support on this," she said to rapt room, cameras showing some stars like Anne Hathaway weeping.
But some say her coming out was not so overt, that the actress's six and a half-minute speech was cryptic and meandering. They say it would have been more powerful had she been straight forward.
FULL LIST: Golden Globe Award Winners
The Los Angeles Times called her speech "winding, emotional," prompting viewers to ask themselves: "Had Foster come out as gay? And had she announced her retirement?"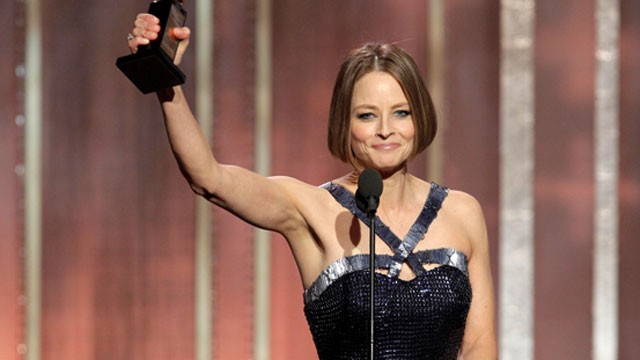 Paul Drinkwater/NBC/Getty Images
In the speech, Foster said: "Well, I may never be up on this stage again, on any stage for that matter. Change, you gotta love it. I will continue to tell stories, to move people by being moved, the greatest job in the world. It's just that from now on, I may be holding a different talking stick."
But later she told the Los Angeles Times that she isn't retiring. "I could never stop acting," she told the paper. "You'd have to drag me behind a team of horses...I'd like to be directing tomorrow. But, no, I'm actually more into [acting] than I've ever been."
Michael Musto, a culture columnist in the Village Voice, said: "I found her speech a weirdly defensive, self-rationalizing defense of the celebrity closet. I always find it upsetting when celebrities name sexuality as the diving line in the privacy issue. I don't think you have to be Honey Boo Boo -- to name an example she gave -- to be honest and open about something personal."
"I think Jodie should have just said, 'Yep, I'm gay,' rather than try to justify the fact that she was in the glass closet while claiming she already did come out (meaning to everyone she meets)," he wrote in an email to ABCNews.com. "A straightforward coming out would have been preferable to the route she took -- -and by the way, I think she should have done it many years ago. But parts of her speech were very moving and now she is out, so I think we should just throw her a party."
FULL COVERAGE: The 2013 Awards Season
Foster had come out as early as 2007 at a Hollywood Reporter breakfast, according to Buzzfeed's Kate Arthur, when the actress thanked "my beautiful Cydney," her then-girlfriend, Cydney Bernard. They have since broken up, as alluded to in last night's speech when Foster announced, "I am ... single."
Foster also called Bernard, "My heroic co-parent, my ex-partner in love."
After the awards ceremony, Foster told the LA Times, "The speech kind of speaks for itself."
Others cheered her on.
"When one of the most critically-praised actresses speaks about her identity and relationships on one of the largest stages in the world, it shows just how much the tide has turned," said GLAAD President Herndon Graddick. "Given Jodie Foster's lifetime of achievements, this is a significant moment for LGBT visibility. As more and more high-profile LGBT people like Jodie speak openly, those who do not accept LGBT people will continue to fall behind the times."
Filmmakers Jennifer Brooke and Beatrice Alda, daughter of actor Alan Alda, said in a statement to ABCNews.com: "We wholeheartedly support and applaud anyone who comes out, whether they are struggling teens, evolving adults, or major celebrities."
Their 2008 film, "Out Late," looked at other women who had come out after 50.
"In Foster's case, the packaging of her coming out in an intellectually complex and multi-layered speech, just as the timing of it, is of course part of her freedom of both expression and privacy," they said. "It is all about progress -- meaning positive forward motion - and last night Foster certainly provided that."
by
Add your quick reply below:
You must be a member to reply to this post.
Replies (1-10):
Add your quick reply below:
You must be a member to reply to this post.