Current Events & Hot Topics
The new bully: senior citizens.......
Loss of independence and inhibition among factors that lead to bullying among senior citizens
January 28, 2013 12:11 am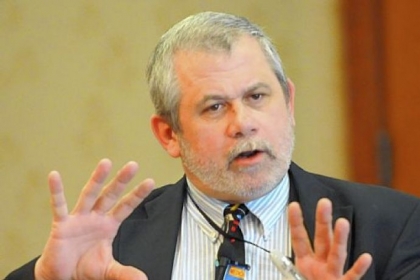 Bob Donaldson/Post-Gazette
Matthew Coppola, a primary care physician who treats geriatric patients, has begun speaking at senior facilities on the topic of "bullying in your golden years."
Loading
Click image to enlarge
Share with others:
By Sally Kalson / Pittsburgh Post-Gazette
Bullying is mean, aggressive behavior by someone with more power or status trying to control someone with less. As such, it knows no age limits. We're accustomed to stories about childhood bullies, but similar behaviors are occurring among seniors in independent retirement communities, assisted living facilities, nursing homes and community centers.
"People in these places bully each other, although we don't always perceive it as such," said Matthew Coppola, a primary care physician at Allegheny General Hospital who treats a number of geriatric patients. In response to reports from staff, he has begun speaking at senior facilities on the topic of "bullying in your golden years."
The goal is help residents identify bullying, protect themselves by speaking up or telling staff, and decide what do to when they witness bullying of others. He also works with staff to draft bullying policies and enforcement procedures.
This is not about older people whomping each other with their walkers (although physical aggression has been known to occur) but tends to involve social pressure from nasty comments, gossip, cliques and shunning. Seniors can be the victims, the perpetrators or both.
"One of my patients described it as junior high all over again," said Andrea Fox, a gerontologist and medical director of the Squirrel Hill Health Center.
Dr. Coppola said that based on his experience with geriatric patients, "Bullying occurs everywhere." And he should recognize it: As one of six children he's been on the giving and receiving end many times, and with six children of his own, he's done plenty of refereeing.
"I believe everyone is bullied at some point," he said, but that doesn't mean it should be ignored, especially among vulnerable populations where depression, loneliness and isolation can result.
"I've watched my senior patients going through different phases of their lives, and their golden years aren't always so golden," Dr. Coppola said. "They need assistance where they didn't before, and they have to adjust to a new environment. Sometimes they resort to bullying to get the task accomplished."
A small pilot study by Robin Bonifas at Arizona State University in Phoenix found 10 to 20 percent of seniors in care homes are mistreated by their peers.
"People don't see it as a problem because it's just the way people are, but it can lead to residents not wanting to leave their rooms," said Ms. Bonifas, an assistant professor at the School of Social Work. She just completed the second phase of her 19-month study.
Ms. Bonifas, who holds a Ph.D. in social welfare, interviewed seniors at two assisted living places where 24 of 130 residents came forward to say said they'd felt threatened by peers.
A third of the complaints wouldn't meet the definition of bullying, she said -- for example, an impaired person yelling at a wall -- but the residents felt threatened anyway.
"I don't know that there's hitting or kicking, although there could be, but most complaints were about emotional or psychological things such as excluding people from groups, making fun of them and gossiping. 'You can't play cards with us because you're dumb,' or 'ooh, look at your limp,' or 'you can't sit here, your hair looks bad.' "
Bullying may be a function of cognitive problems, said Dr. Fox, who is also an associate professor of family medicine at the University of Pittsburgh School of Medicine.
"People tend to develop cognitive impairment as they age and also become more disinhibited," she said. "My grandmother was living in a senior highrise in Los Angeles, and she started to get demented. She kept losing things and yelling at people for stealing from her."
But cognitive problems are hardly a prerequisite, she said.
"There's probably as much bullying in senior facilities as in any apartment building. People do carry their personalities with them through their lives. If they were bullies before, they will still be bullies when they're older. It's the stuff that goes on when you get any group of people together."
On the other hand, she said, studies have shown that older people are able to handle disgruntlement better.
"You don't see a lot of older adults in road rage incidents," Dr. Fox noted. "They may be more susceptible to being bullied, but they also become more wise and don't pay as much attention to it."
Ms. Bonifas said her study looked at social history, self-esteem, history of trauma, mood and cognitive status. The last was not a predictor, she said, but that could be due to the small size of the sample. She is looking to do a larger national study soon.
"In nursing homes, cognitive status does play a role, but we don't see bullying there as much as outright behavioral problems and impulse-control issues, not being able to judge what's appropriate."
More often, she said, bullying is related to loss and an extreme need to maintain control.
"They've lost their independence, they're not driving or setting their own routine. If they have an intense need for some control, it comes out in dominating others."
Residents of nursing homes, for example, might not want to live together, given a choice.
"Suddenly you have people who'd never live in the same neighborhood, and now they're roommates," said Jules Rosen, chief of geriatric psychiatry at UPMC. "If they were in a college dorm, one would move out. But in a nursing home it can be very difficult to switch rooms."
Ms. Bonifas said she recommends a three-pronged approach to senior bullying. One, the facility should create a culture that doesn't tolerate it (not easy in an apartment building where people live independently). Two, staff should intervene. If the behavior is coming from loss, depression or need for control, that should be addressed. And three, they should help the victims learn to advocate for themselves.
"Small gains in each area makes for a big gain overall," she said.
Any gain is important, Dr. Coppola said, because bullying can be harmful to the victim's emotional well-being, especially during the dicey period of transition into a group living situation.
"They're more docile when they first arrive," he said. "They're trying to fit in. After awhile they carve out their territory, but if they need help doing that, they should get it."


Read more: http://www.post-gazette.com/stories/news/health/loss-of-independence-and-inhibition-among-factors-that-lead-to-bullying-among-senior-citizens-672309/#ixzz2JH70QsiK
by
Add your quick reply below:
You must be a member to reply to this post.
Replies (1-10):
Add your quick reply below:
You must be a member to reply to this post.