Current Events & Hot Topics
No parking? What about the roof? How did that car get up there anyway?
Man headed to dinner drives car on to neighbor's roof
updated 9:29 AM EDT, Sun March 24, 2013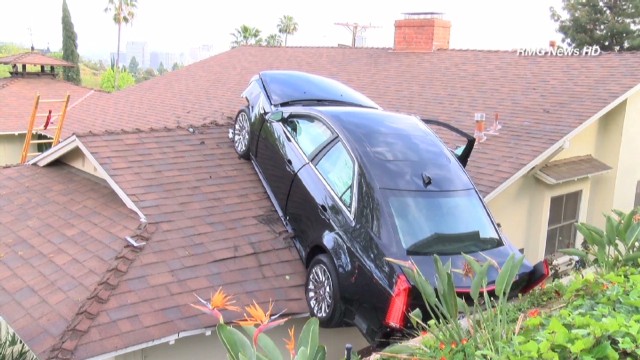 Man loses control of car, lands on roof
STORY HIGHLIGHTS
The man loses control of his car while driving down a steep driveway
A neighbor uses a ladder to help the couple off the roof
A man inside the house is unhurt
A crane is brought in to lower the car
(CNN) -- The husband and wife left for a night on the town.
They ended up with their Cadillac on the roof a house.
In an incident that left neighbors in a Glendale, California, neighborhood surprised but relieved that no one was hurt, a man lost control of his black Cadillac as he drove down his steep driveway Saturday evening.
The car blew through a neighbor's yard, clipped a house and went airborne -- landing on the roof of a house.
Its front pointed toward the sky; its back rested on the edge of a retaining wall.
Galina Wynn told CNN affiliate KABC that her husband, Robert, couldn't stop as they turned the corner from their hillside home. There was something wrong with the car, she said.
"As soon as we hit the corner, the airbags deployed and I didn't even see where we were going from there because the view was obscured," Wynn said.
Neighbors rushed to the scene. One grabbed a ladder and helped the couple off the roof.
An 80-year-old person inside the house was startled but unhurt.
"There was one person inside the house but not in the area of where the car landed," said Glendale Fire Batt. Chief Ron Gulli.
The fire department brought in a large crane to delicately lift the car off the house.
It had major damage. The roof, on the other hand, needs only minor repairs.
"You know I've seen other similar collisions. We have a lot of hillsides here in Glendale. But this was very unique that it landed the way it did and didn't go through the roof of the home and cause some injuries," Glendale police Lt. Scott Bickle told CNN affiliate KTLA.
Neighbors told officers Saturday's incident was the second time the man crashed into a neighbor's house while trying to drive down his driveway, said Glendale police Sgt. Sean Riley.
The man, in his late 60s, will need to take a driver's reevaluation test to determine if he is still able to drive safely.
by
Add your quick reply below:
You must be a member to reply to this post.
Replies (1-2):
Add your quick reply below:
You must be a member to reply to this post.