Current Events & Hot Topics
Ford apologizes for art depicting tied-up women
Ford apologizes for art depicting tied-up women
@CNNMoney March 25, 2013: 1:20 PM ET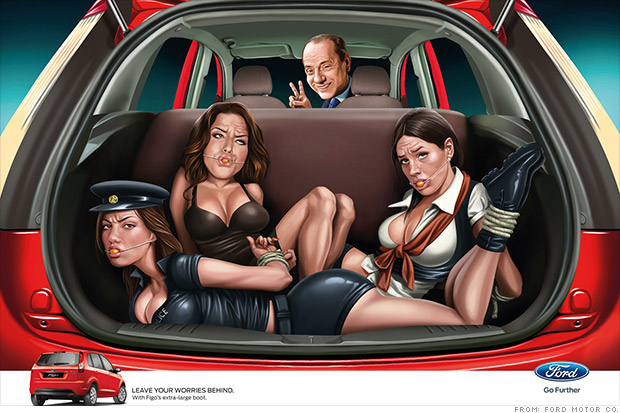 NEW YORK (CNNMoney)
Ford and ad agency WPP apologized on Monday for offensive artwork depicting women tied up in the back of a Ford Figo, a car available in India.
The cartoonish drawings were never part of a paid campaign but were part of "a creative exercise by a team that was submitting for an ad competition," according to Chris Preuss, Ford (F, Fortune 500) spokesman for WPP. "They were actually posters uploaded to a website, which is where it all took off from."
One of the images depicts Silvio Berlusconi, former prime minister of Italy and a candidate in the current campaign, driving a Ford Figo with three tied-up women in the back. Another image depicts Paris Hilton driving a Figo with what's meant to be the three Kardashian sisters tied up in the back. A third image shows three male race-car drivers tied up in the back.
"We deeply regret this incident and agree with our agency partners that it should have never happened," said Ford, in a prepared statement. "The posters are contrary to the standards of professionalism and decency within Ford and our agency partners."
WPP also released a statement saying that it "deeply regret[s]" the existence of the "distasteful" posters.
Related: Ford unveils the Figo for India
India is particularly sensitive to the topic of violence against women, since several high-profile gang rapes have occurred there in recent months.
Ford unveiled the Figo, a subcompact, in 2009 to be produced in India and exported to other Asian countries and Africa.

by
Add your quick reply below:
You must be a member to reply to this post.
Replies (1-10):
Add your quick reply below:
You must be a member to reply to this post.