Current Events & Hot Topics
Texas abortion bill defeated after missing deadline
Texas abortion bill defeated after missing deadline
• Wendy Davis stages 11-hour filibuster to block bill
• Vote derailed by unruly mob, says lieutenant governor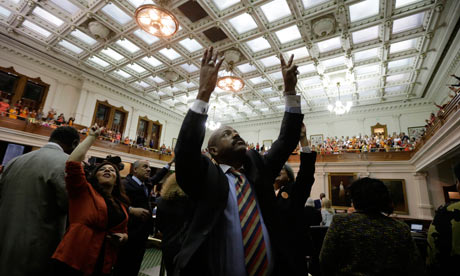 A controversial abortion bill, which would have severely restricted access to abortion in Texas, has been defeated after a day of political drama and confusion that saw a marathon filibuster speech, procedural wranglings and a loud public protest fanned by nationwide support on social media.
David Dewhurst, the Texas lieutenant governor, acknowledged that he had missed the midnight deadline to sign the bill, which Democracts had spent most of the day trying to block.
One Democrat senator, Wendy Davis, spoke for 10 hours and 45 minutes in an attempt to filibuster the bill. When procedural motions brought by Republican opponents forced her to stop speaking, other Democratic colleagues attempted to run down the clock.
Dewhurst told reporters the 19-10 vote was in time, but "with all the ruckus and noise going on, I couldn't sign the bill". He blamed the delay on "an unruly mob using Occupy Wall Street tactics", according to the Austin American-Statesman, and denied mishandling the debate.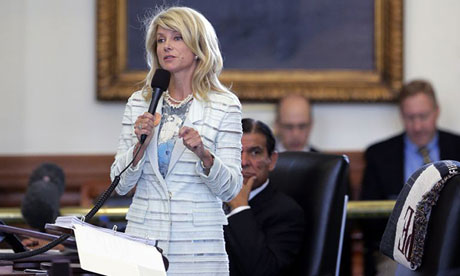 "I didn't lose control (of the chamber). We had an unruly mob," Dewhurst said. He then hinted that Governor Rick Perry might immediately call another special session, adding: "It's over. It's been fun. But see you soon."
As the deadline approached, opponents of the bill in the crowded public gallery erupted into cheers and catcalls, delaying the final vote, which took place on the stroke of midnight.
Initially, Republicans insisted they had started voting before midnight, but official computer records and printouts showed the vote took place on Wednesday, but had been changed to read Tuesday.
Senators then convened for a private meeting, after which Dewhurst acknowledged that the vote had been derailed.
Emerging from the talks, Davis praised the "determination and spirit of Texas women", adding: "My back hurts. I don't have a lot of words left."
Democrat senator Leticia Van de Putte praised the crowd of supporters: "You really were the citizen filibuster," she said. "I've never seen anything like it and I'll never see it again – I hope we never have to see it again.
"The Republicans in the Senate and the House and the governor tried to silence women in Texas. They did everything they could. Your power is greater. This bill would have passed if you guys had not come here these last five days."
To be successful in her filibuster. Davis had intended to speak for 13 straight hours, without taking a bathroom break, sitting or even leaning against her desk, until midnight when the bill would expire. She refused to yield for questions.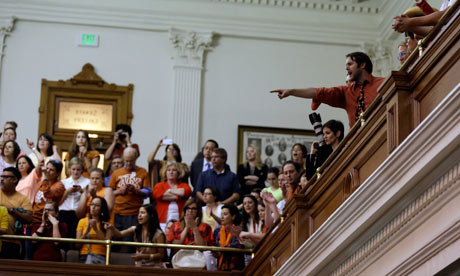 As the speech progressed, interest intensified around the US. Barack Obama tweeted his support, and a live stream of the proceedings on YouTube attracted more than 150,000 viewers.
The aim of the filibuster was to prevent the bill, by Republican senator Glen Hegar, reaching Perry. The bill would have banned abortions in the state after the 20-week gestation mark, limit abortion-inducing drugs and require terminations to be performed in ambulatory surgical centres.
Advocates say these and other restrictions in the bill would have also triggered the closure of 37 of the state's 42 abortion clinics.
Davis, a rising Democratic star, opened her speech by saying she wanted to humbly give voice to thousands of Texans, and called Republican efforts to pass the bill a "raw abuse of power".
Wearing pink trainers, Davis rocked from hip to hip and slowly paced while she read testimony from doctors and women who would be affected by the bill if it were passed. "What purpose does this bill serve? And could it be, might it just be a desire to limit women's access to safe, healthy, legal, constitutionally-protected abortions in the state of Texas?" she said.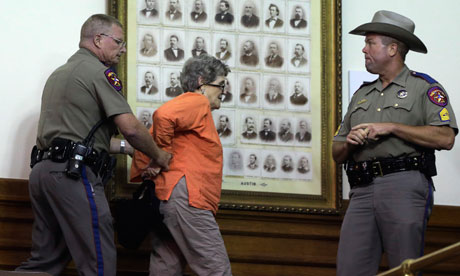 As the hours progressed, Davis filled the time reading from the testimony of women and doctors who would be affected. Her marathon speech, which began at 11.18am local time, came to an end at 10.03pm when the last of three points of order were sustained against her.
A rush of procedural motions and inquiries by Democrat senators delayed the final vote on the bill. Van de Putte asked for a summary of previous points of order, saying she had been away from the senate attending her father's funeral.
The leader of the Democrats in the senate, Kirk Watson, began what amounted to his own filibuster.
With less than 15 minutes to go until midnight Van de Putte asked what a female member of the senate had to do to be heard over her male colleagues. She believed she had raised a motion earlier but had not been heard.
It was at this point the crowded public gallery began chanting and cheering. A vote was called on the SB5 bill but the noise was at such a level that voting was suspended until order was restored.
The gallery appeared to take this as an invitation to ramp up their noise for the remaining 15 minutes, with encouragement from Democrats on the floor. The session ended in chaos and confusion, and without the vote being completed by midnight.
There were reports that some senators did not even know what they had voted on. For more than 30 minutes senators milled around the floor and protesters shouted from the gallery, before troopers moved in, arresting at least one protester.
http://www.guardian.co.uk/world/2013/jun/26/texas-abortion-vote-defeated-deadline-wendy-davis
Feminism is the radical notion that women are people.
by
Add your quick reply below:
You must be a member to reply to this post.
Replies (1-10):
Add your quick reply below:
You must be a member to reply to this post.