Current Events & Hot Topics
The NFL's domestic violence problem
The NFL's domestic violence problem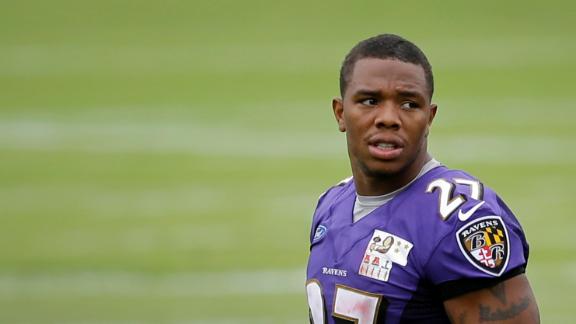 Today the NFL finally issued a two-game suspension for Baltimore running back Ray Rice. What an ugly situation.
This offseason Rice was reportedly caught on an elevator surveillance camera punching his then-girlfriend in the face. A few minutes later, in a video that went viral, Rice was seen pulling her apparently unconscious body out of the elevator.
And now ... two games? Commissioner Roger Goodell has issued longer suspensions for pot smoking, taking Adderall, DUI, illegal tattoos, dogfighting and eating a protein bar thought to be on the NFL's approved list.
Two games. It's a joke, and a bad one. Worse, it leaves the door open for people to think that Janay Rice bears a lot of the responsibility for eliciting the punch that seemingly knocked her out.
Two games. This comes in the same offseason when elite pass-rusher Robert Mathis got four games for, according to him, using an unapproved fertility drug as he and his wife tried to get her pregnant. Is the NFL saying that knocking out your fiancée is less problematic for the league than knocking up your wife without Roger Goodell's sign-off?
The NFL is sending a strong message by issuing such a weak suspension; it's about as meaningful as a yellow card in a soccer game.
And make no mistake, the NFL has a problem on its hands.
Too many NFL players have been arrested in high-profile cases involving violence against women. Panthers defensive end Greg Hardy, Cardinals linebacker Daryl Washington and Rice are recent examples, and just this Wednesday, allegations of domestic violence surfaced against former Redskins tight end Fred Davis.
Washington was sentenced to a year of probation for assaulting the mother of his child after she said he shoved her down with both hands, breaking her collarbone. The NFL booted him for the entire 2014 season ... but a league spokesperson cited a second violation of the league's substance abuse policy as the reason. The suspension for domestic violence has yet to land.
"Any incident of domestic violence is really one too many," NFL VP of human resources Robert Gulliver told espnW recently. "Whenever these instances come up, I would say it's tragic and there's obviously a very swift move to address the issues with multiple parties being involved. We take these issues very seriously. Our security department gets involved, our management counsel gets involved, club staff gets involved and we just simply don't tolerate instances of domestic violence."
Right.
The NFL may say it doesn't tolerate domestic violence, but until the league puts its money where its players' fists are, those words are utterly empty.
Harry Edwards, a professor emeritus of sociology at UC Berkeley, has been a staff consultant on player personnel development with the San Francisco 49ers for 30 years. He said domestic violence is a complicated issue -- and to look no further than Janay Palmer's decision to marry Rice after he was indicted for aggravated assault.
That said, Edwards -- a longtime civil rights advocate -- thinks the NFL and other leagues can do more to combat violence against women among players and in society at large.
by
Add your quick reply below:
You must be a member to reply to this post.
Replies (1-3):
Add your quick reply below:
You must be a member to reply to this post.