90% of white people will never come in personal contact with a person of color *ETA to include map of all minorities*
I wrote that in one of my old posts resurrected by my dear friend and I'm surprised, looking back, that people found it difficult to believe so I'm posting a map of where the black people live in this country. Keep in mind this is by COUNTY. That means there are even fewer black people in certain states than this map would seem to indicate.
By my count, there's at least 11 states that virtually have no black people.
You can find this and other demographic maps here.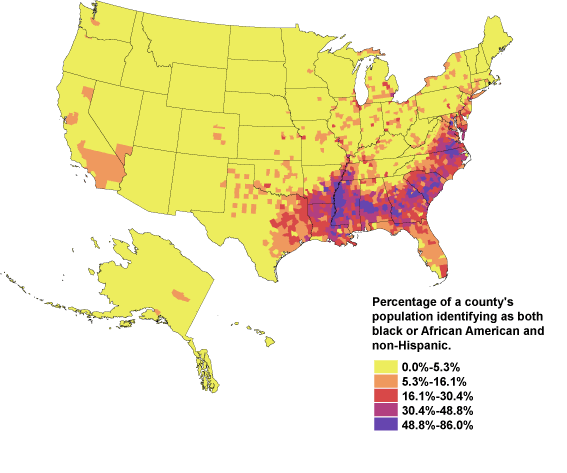 I thought some of you might be interested.
ETA: I would LOVE to research all your cities, counties and states for you but I can't. I CAN provide you a link to quick facts at the census bureau. Have fun!
http://quickfacts.census.gov/qfd/index.html#
ETA: I had a request for a map showing ALL the minorities in the USA and I believe it's fair. Of course, it can't really show ALL minority races and it looks deceptively as if there's lots of minorities in the US and 36% of the people ARE minorities but the majority of our numbers live in major cities while the rest of the people in these states don't get exposed to any people other than white people. It's a fascinating map. Thanks for the suggestion, Arrowee.
by
Add your quick reply below:
You must be a member to reply to this post.
Replies (1-10):
Add your quick reply below:
You must be a member to reply to this post.