Current Events & Hot Topics
For People Who Like to Paint Ramsey Orta as a Habitual Criminal because of his "Drug Conviction."
• RACE, CLASS AND MARIJUANA ARRESTS IN
MAYOR DE BLASIO'S TWO NEW YORKS
I'm only posting three of the charts. Go to the page and see many links to many examples of institutionalized racism. These are articles written by reporters for the NY Times over the years. NYC has struggled with raced-based "selective policing" for a very long time.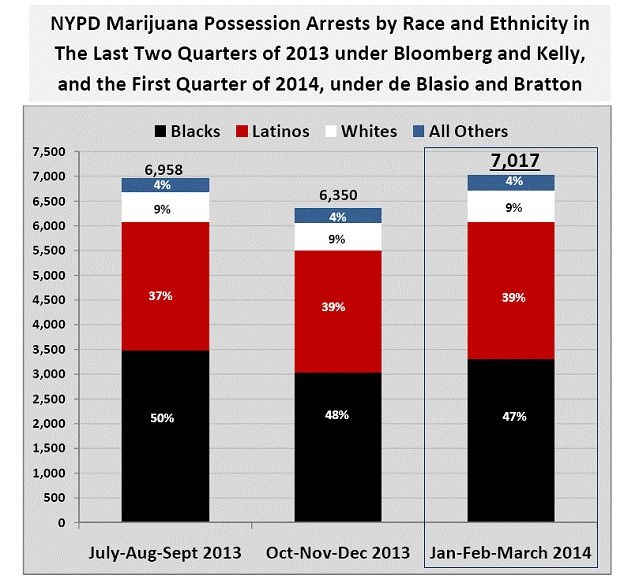 It's virtually only a crime when blacks and latinos do it.
• "In New York City for over ten years, 87% of the people arrested for marijuana possession have been blacks and Latinos. The New York Police Department has arrested blacks for marijuana possession at seven times the rate of whites, and has arrested Latinos at nearly four times the rate of whites. Yet, U.S. government studies have consistently found that young whites use marijuana at higher rates than young blacks or Latinos."
You people saying Mr. Orta is a criminal because he's been convicted of possession of pot are a bunch of hypocrites because I did a post with a survey that proved virtually everyone of you advocates for legalization and decriminalization of possession of marijuana. Stop the accusations or consider yourselves just as criminal except you haven't been busted.
http://marijuana-arrests.com/nyc-pot-arrest-docs.html

by
Add your quick reply below:
You must be a member to reply to this post.
Replies (1-10):
Add your quick reply below:
You must be a member to reply to this post.