Current Events & Hot Topics
Kirby Delauter, Who Didn't Want His Name In A News Story, Is Now A Story - Updated with Delauter apology
This cracked me up...


Kirby Delauter, Who Didn't Want His Name In A News Story, Is Now A Story
Frederick County, Md., Council Member Kirby Delauter threatened a local reporter with a lawsuit for using his name in a story without permission.
Delauter was mentioned exactly once in that article about parking issues. We could explain what he said in his Facebook post on Monday; instead we'll just point you to the screen grab, captured by The Washington Post.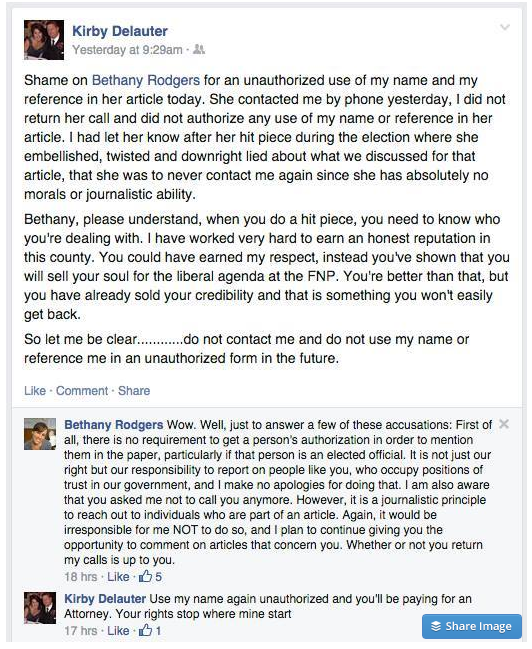 Delauter's original post appears to have been removed.
Well, today, the Frederick News-Post responded, in an acrostic editorial originally scheduled to be published next Sunday. Its headline: "Kirby Delauter, Kirby Delauter, Kirby Delauter."
The piece's tone is tongue-in-cheek. Here's an excerpt:
"Knowing Councilman Kirby Delauter as we do, we weren't surprised that he threatened The Frederick News-Post with a lawsuit because we had, he says — and we're not making this up — been putting Kirby Delauter's name in the paper without Kirby Delauter's authorization. Attorneys would be called, Kirby Delauter said.

"In fact, we spent quite some time laughing about it. Kirby Delauter, an elected official; Kirby Delauter, a public figure? Surely, Kirby Delauter can't be serious? Kirby Delauter's making a joke, right?"
Do head over to the Frederick News-Post for the full editorial. It's worth the read.
I'm wondering how many attorneys laughed when he called tell them he wanted to sue the paper.
Delauter: Statement to The News-Post threatening legal action was 'wrong and inappropriate'
Frederick County Councilman Kirby Delauter today issued the following statement apologizing for his recent threat to sue a Frederick News-Post reporter for using his name in print without permission:
"The first amendment is alive and well in Frederick County. As a public figure working to maintain and improve the county, it can be very frustrating to feel misrepresented or misinterpreted by a local media outlet.
"Over my career I have fired off my fair share of angry e-mails, which in hindsight I wish I hadn't. I can't think of one that had a positive effect. Usually, they only served to escalate the conflict. I thought I had long ago learned the lesson of waiting 24 hours before I hit the send key, but apparently I didn't learn that lesson as well as I should have.
"Of course, as I am an elected official, the Frederick News-Post has the right to use my name in any article related to the running of the county -- that comes with the job. So yes, my statement to the Frederick News-Post regarding the use of my name was wrong and inappropriate. I'm not afraid to admit when I'm wrong.
"I got elected to serve all the citizens of northern Frederick County, Democrats as well as Republicans. I look forward to the local papers covering my effort in that regard."
For more, read Thursday's edition of The News-Post.
by
Add your quick reply below:
You must be a member to reply to this post.
Replies (1-10):
Add your quick reply below:
You must be a member to reply to this post.