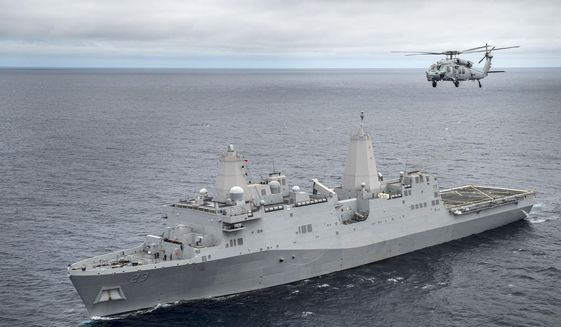 Civilian workers at Indiana's Naval Weapons Station Crane sought and received nearly $4 million in pay for working with explosives, handling microorganisms or being in dangerous conditions. The only problem was, they never worked under such conditions.
The fraudulent charges were highlighted in a draft report of a February Judge Advocate General investigation into the abuse of environmental differential pay — a type of overtime payment given to government workers for performing work outside the scope of their daily duties that might be considered hazardous — within the public works department at Crane.
In the report, which was sent to the The Washington Times by a source close to the inquiry, investigators blasted union supervisors for claiming ignorance of the law as an excuse for the fraudulent payments.
"With the responsibility of being a supervisor comes the requirement of knowing the rules and requirements regarding laws, regulations and policies pertaining to the work they do," the draft report reads. "Clearly those supervisors were not only claiming but certifying pay for EDP and claiming ignorance of the law and instruction is not appropriate for a supervisor."
The accusations were made just one month after The Times reported on similar abuses within the public works department at New Jersey's Naval Weapons Station Earle, which indicated an overarching culture of abuse bred from friendships and favoritism within public works departments.
Watchdogs say the JAG report findings also mirror a governmentwide problem with overtime abuse. In 2013, the U.S. Office of Special Counsel reported that the Department of Homeland Security was stealing $8.7 million in unearned overtime annually, and auditors in February slammed the U.S. Agency for International Development for signing off on millions of dollars in overtime without verifying that workers had earned it.
"It should be more shocking that federal workers are ripping off the taxpayers — this time by abusing overtime rules. Unfortunately, these types of stories are becoming all too common, and Congress needs to press the Obama administration to engage in a wholesale procedural review to reinstate a culture of accountability within the civil service," said Rick Manning, president of Americans for Limited Government.
For scamming the federal environmental differential pay system to steal millions of dollars from taxpayers, the public works department at Naval Weapons Station Crane wins this week's Golden Hammer, a weekly distinction given by The Washington Times highlighting examples of wasteful or fraudulent federal spending.
Thomas Kreidel, a spokesman for NAVFAC Mid-Atlantic, which oversees the public works department at Crane, told The Times in an email that command is now working with management and the union to draft a new environmental differential pay system that follows the guidelines established by NAVFAC Midwest, which is now disbanded.
"Since February of 2014, management has implemented tighter controls on what is considered work meriting Environmental Differential Pay (EDP) under the law. These actions resulted in the Union ultimately requesting arbitration in the matter," Mr. Kreidel said. "The Command has recently received the arbitration decision and, in accordance with the decision, is working toward bargaining the impact and implementation of the NAVFAC Mid-Atlantic Instruction and policies going forward."
The accusations in the report prompted the deputy public works officer to issue a memorandum ordering the local union to stop approving environmental differential pay charges that do not meet Navy qualifications, but the local chapter of the American Federation of Government Workers union fought back and filed a grievance with NAVFAC-Mid-Atlantic command in Norfolk, demanding that the payments be reinstated and employees be paid retroactively for environmental differential pay owed, with interest.
An arbitration hearing was held on the matter in November. The union argued that it had never received NAVFAC's guidelines on environmental differential pay and complained that the changes to pay after the memorandum were made without adequate warning for employees. According to the arbitration agreement, the union thought the NAVFAC instructions on environmental differential pay did not apply to Crane and didn't make sense because they were too vague.
Union President Dewayne Gragg didn't respond to a request for comment by The Washington Times.
In the arbitration, deputy public works officer Frank Duvall said that the amount of environmental differential pay being approved was way too high, considering there is only once circumstance that might qualify the public works department for environmental differential pay.
"The ONLY thing we have in our Local Instruction (NAVFACMWINST 12532.1) relating to ordnance areas is for emergency repairs to facility mechanical or electrical systems around ordnance. That's the only time anyone is entitled to EDP and does not mean that they are simply in the arc. Note that the stipulation for ordnance EDP is working in close proximity to ordnance operations that could result in injury from explosives debris," Mr. Duvall said, according to the arbitration record.
Investigators found that some shop supervisors were "claiming EDP for all or a majority of their man-hours of the entire fiscal year," according to the draft report, and there was no documentation to reference when and where workers were exposed to situations that warrant environmental
differential pay.
Supervisors told investigators that "EDP was an entitlement and just a normal part of conducting business in the past at Naval Weapon Station Crane," the report reads.
Much like the abuses that occurred at Naval Weapons Station Earle, the environmental differential pay scam at Crane festered for years in a close working environment where friendly co-workers kept the issue under wraps to avoid stirring up trouble.
"It's a very small community. There are people that work here on base that their grandfathers built the base and their mothers and fathers worked on the base," said an employee on the base, who wanted to remain confidential for fear of retaliation. "Everybody knows everybody, nobody wants to make anyone else mad. Crane almost makes up its own rules."
Scott Amey, legal counsel with the Project on Government Oversight, said favoritism often fosters a chilling effect that keeps workers from speaking out against wrongdoing.
"That's kind of the chilling effect that you have, when it is going to impact people that you work with and their paychecks. It's easier to go with the flow than to say something and jeopardize relationships that you may have with co-workers. Nobody wants to take money out of someone's pocket or food off of someone's table," Mr. Amey said.
Last week, the arbitrator decided that the public works department was not entitled to continue receiving the environmental differential pay and ruled that the union and the department must negotiate a new process that meets NAVFAC standards and prepare a draft of the new guidelines by May 22.


Read more: http://www.washingtontimes.com/news/2015/apr/16/navy-civilian-workers-abuse-overtime-pay-while-uni/#ixzz3ZIC1rh9r