Current Events & Hot Topics
Donald Trump Goes Full Anti-Woman, Suggests 'Punishment' For Women Who Abort
Donald Trump Goes Full Anti-Woman, Suggests 'Punishment' For Women Who Abort
Men should be all right, though.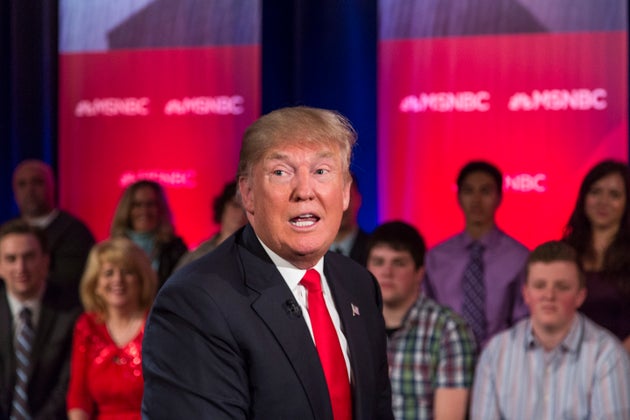 Tom Lynn/Getty Images
Republican presidential front-runner Donald Trump said Wednesday that there "has to be some form of punishment" for abortion if it were banned in the U.S. — as he says it should be — and that punishment should fall on the woman.
Trump, who is currently struggling with women voters, was pressed on the issue of abortion during an interview with MSNBC's Chris Matthews, set to air Wednesday evening.
Matthews asked whether abortion should be punished, and Trump initially skated around the issue. He said some Republicans would say it should be, and that he "would say it's a very serious problem and it's a problem we have to decide on."
He then asked Matthews — but didn't answer himself — "Are you going to, say, put them to jail?" and added he was anti-abortion and that "we have to ban" abortion.
"There has to be some form of punishment," Trump said, adding "Yeah" when Matthews asked if he meant for the woman. The host asked if that punishment would be closer to 10 days or 10 years, and Trump said he didn't know.
Trump indicated he would be far more lenient on the man who impregnated a woman who had an abortion — he said he did not think they would bear the same level of responsibility.
The Trump campaign quickly tried to walk back his comments afterward, saying the matter should be decided by the states.
Abortion bans supported by Republicans usually make it a crime for doctors to perform the procedure, rather than for patients to obtain it.
Trump has been slippery on his stances on abortion, as with many other issues. He previously said he was in favor of abortion rights and "very pro-choice," before changing his stance. He said he would defund Planned Parenthood, and yet offered a defense of its other services.
Republicans opposed to abortion rights already punish patients who seek the procedure, so Trump was just making their philosophy more explicit. A record number of restrictions on abortion have been passed since Republicans swept control in a slew of state legislatures in 2010; many of these provisions are meant to dissuade patients from seeking abortions and punish them if they do.
Requiring a patient undergo a waiting period of 24, 48 or 72 hours before having an abortion is a form of punishment. Banning telemedicine for medication abortion punishes patients in rural areas. Requiring an ultrasound in which the provider describes the details of the fetus to the patient is a form of punishment. Mandating biased counseling, in which doctors are required to tell patients that abortion causes breast cancer or depression, is a form of punishment.
Forcing providers to use an outdated regimen for administering medication abortions, which carries a higher risk of side-effects, is a form of punishment. Laws preventing providers from using the method used in the vast majority of second-trimester abortions, because it is the safest, punish patients. And requiring adolescents to get permission from both of their parents to have the procedure, while mandating abstinence-based sex education at the same time, punishes teens for getting pregnant.
Lastly, the Hyde Amendment, which is routinely inserted into appropriations bills, punishes low-income patients by preventing Medicaid from covering the procedure.
"I certainly would like to prevent, if I could legally, anybody having an abortion, a rich woman, a middle-class woman, or a poor woman. Unfortunately, the only vehicle available is the … Medicaid bill," said former Rep. Henry Hyde (R-Ill.) during debate over Medicaid funding for abortion in 1977.
Trump has a long history of anti-woman comments, and this month has come under fire for his treatment of opponent Sen. Ted Cruz's wife, Heidi, and for sticking by his campaign manager Corey Lewandowski after he was charged with battery against a female reporter.
Reuters found earlier this month that half of all women have a "very unfavorable" view of the GOP front-runner.
Just 19 percent of Americans believe abortion should be illegal under all circumstances, according to Gallup, so Democrats and reproductive rights groups are guaranteed to seize upon Trump's comments to argue that the Republican Party is out of step with public opinion on the issue.
Democratic presidential candidates Hillary Clinton and Sen. Bernie Sanders (I-Vt.) quickly responded on Twitter.
Republican candidate and Ohio Gov. John Kasich told NBC's Chuck Todd that there should "absolutely not" be punishments for a woman if abortion was outlawed. He also he would support outlawing the procedure, with exceptions for victims of rape and incest, or women whose lives were in danger.
"Of course, women shouldn't be punished," he said. "Probably Donald Trump will figure out a way to say that he didn't say it or it was misquoted or whatever, but I don't think so. I don't think that's an appropriate response."
"And it's a difficult enough situation, and to try to punish somebody," he added, trailing off.
by
Add your quick reply below:
You must be a member to reply to this post.
Replies (1-10):
Add your quick reply below:
You must be a member to reply to this post.