Current Events & Hot Topics
A Pastor Who Said Islam Is 'Evil' Is Speaking At Trump's Inauguration
A Pastor Who Said Islam Is 'Evil' Is Speaking At Trump's Inauguration
Which makes sense, considering Trump once said "Islam hates us."
An evangelical pastor who thinks Islam is "evil" is set to deliver prayers on Friday at the inauguration ceremony for a president-elect who thinks "Islam hates us."
Rev. Franklin Graham is among six faith leaders chosen by Donald Trump to offer their prayers, benedictions or other statements during Trump's swearing-in on Jan. 20.
Graham is president of the Christian relief organization Samaritan's Purse and the Billy Graham Evangelistic Association. He is also one of America's more prolific anti-Muslim bigots, and his inclusion in Friday's ceremony has saddened, but not necessarily surprised, American Muslim groups.
"[Trump] ran a campaign riddled with Islamophobia, so it's no surprise that the person he brings in at inauguration is the pastor with the longest track record of anti-Islam bigotry in the U.S." said Imraan Siddiqi, executive director at the Arizona chapter of the Council on American-Islamic Relations, or CAIR.
"Extremist voices like Graham are given legitimacy by highlighting him on a national platform, therefore his inclusion on this docket seems to be an endorsement of his highly offensive views," Siddiqi said.
'A Religion Of War'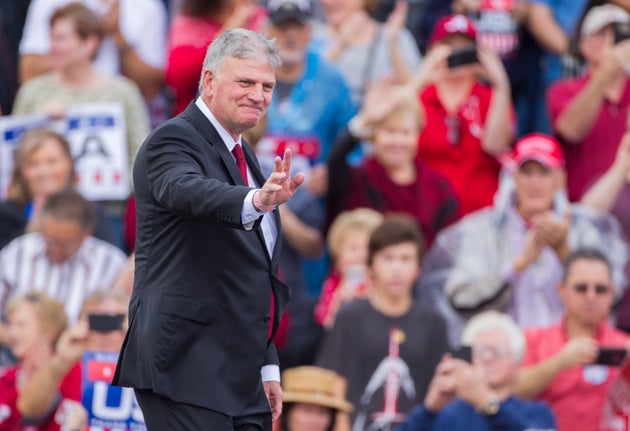 Mark Wallheiser via Getty Images
Rev. Franklin Graham at a Donald Trump rally in Mobile, Alabama, on Dec. 17, 2016.
Pressed to clarify his comments by NBC, Graham said, "It wasn't Methodists flying into those buildings, it wasn't Lutherans. It was an attack on this country by people of the Islamic faith."
In 2014, when asked by Christian Today if his views on Islam had changed since those 2001 remarks, Graham said "I have not changed my opinion at all."
He added that when he looked at terror groups like the Islamic State, the Taliban and Boko Haram, he thought: "This is Islam. It has not been hijacked by radicals. This is the faith, this is the religion. It is what it is. It speaks for itself."
Islam, he added, hasn't changed in 1,500 years. "It is the same," he said. "It is a religion of war."
During a 2009 CNN interview, Graham said that "true Islam cannot be practiced in this country," and went on to suggest that Islam sanctions horrific crimes.
"You can't beat your wife," he said. "You cannot murder your children if you think they've committed adultery or something like that, which they do practice in these other countries."
In 2014, Graham wrote a Facebook post decrying the National Cathedral in Washington for allowing the first-ever Muslim prayer service in the church.
"It's sad to see a church open its doors to the worship of anything other than the One True God of the Bible who sent His Son, the Lord Jesus Christ, to earth to save us from our sins," Graham wrote.
In a 2015 interview with Fox News' Bill O'Reilly, a paranoid Graham warned that the White House had been "infiltrated by Muslims," although he couldn't name who these Muslims were. In a Facebook post a couple days later, Graham nevertheless said these Muslims were "anti-Israel and anti-Semitic—and they are influencing the president who as we all know was raised with a strong Muslim influence in his life."
This Muslim influence, Graham said in a later interview on the Christian Broadcasting Network, would somehow lead to the "persecution" of Christians.
by
Add your quick reply below:
You must be a member to reply to this post.
Replies (1-10):
Add your quick reply below:
You must be a member to reply to this post.