Current Events & Hot Topics
Supporters ready for President Trump Rally as Freedom Hall prepares
http://www.wdrb.com/story/34949865/supporters-ready-for-president-trump-rally-as-freedom-hall-prepares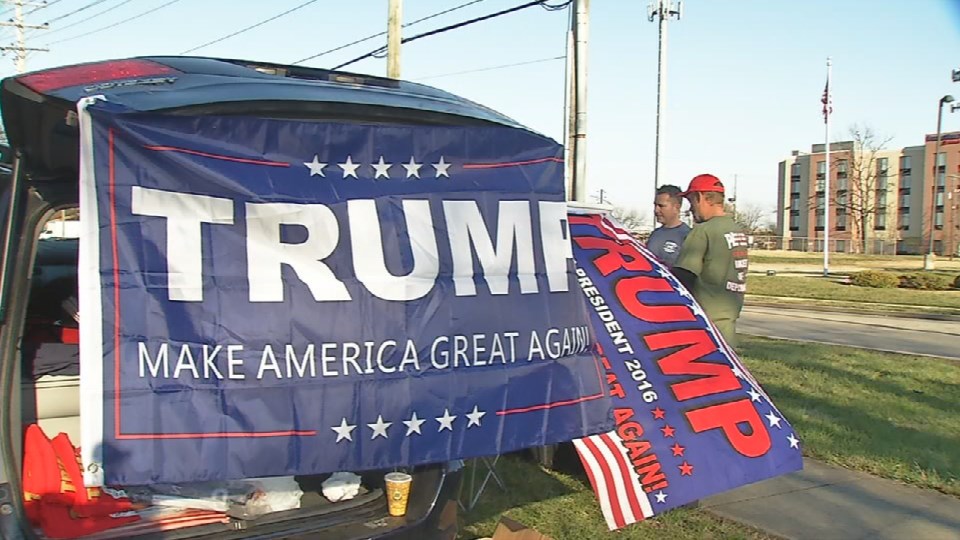 E, Ky (WDRB) - President Trump will make his first stop in Louisville Monday night as president and preparations are underway at Freedom Hall.
Sunday thousands of dancers, part of a national competition, packed Freedom Hall just a day before the president's arrival.
Secret Service did a security walk-through Saturday, which delayed some dancers from competing.
"I found out yesterday because our cheer competition got delayed an hour because of something they were doing to get ready for Trump," said Sylvia Brookshire, who has a daughter competing at Freedom Hall.
Not far from the Hall, Trump supporters set up a mobile shop selling t-shirts, pins, buttons, and life-size cardboard cut-outs of the president.
"It doesn't matter where he is. If he goes where ever we will follow him," says Holly Allison, who travels the country supporting the president.
Neither the president's campaign representatives or Freedom Hall are saying how many tickets have been reserved in the 15,000 seat arena but they have set ground rules.
No handmade signs or professional cameras, selfie sticks or backpacks allowed inside.
Monday will be the first time Trey Kennedy will see the Commander in Chief with that title; having attended many campaigns events over the last year.
"I am excited because it shows Louisville is on the political map and actually shows that Kentucky as a state is important to the Trump administration and to national politics," Kennedy said. "I mean it's the President of the United States ... whether you agree with him or disagree with him it is definitely something to come out and see."
Doors open to the public at 4:30 p.m. and the president is scheduled to speak around 7:30 p.m
by
Add your quick reply below:
You must be a member to reply to this post.
Replies (1-10):
Add your quick reply below:
You must be a member to reply to this post.