Current Events & Hot Topics
U.S. Job Openings Surge to Record in Sign of Robust Labor Demand
A June surge in U.S. job openings to a record indicates demand for workers remained strong at the end of the second quarter, a Labor Department report showed Tuesday.
HIGHLIGHTS OF JOB OPENINGS (JUNE)
Number of positions rose by 461k, most in almost two years, to 6.163m (est. 5.75m) from upwardly revised 5.702m in May
Hiring fell to 5.36m from 5.46m; hiring rate held at 3.7%
3.13m Americans quit their jobs, down from 3.21m; quits rate fell to 2.1% from 2.2%
Layoffs up slightly to 1.7m from 1.67m
Key Takeaways
The gain in job openings underscores the need for workers in an economy that's continuing to expand. At the same time, the pool of qualified Americans is shrinking and making some positions tougher to fill, one reason economists expect the monthly pace of hiring will eventually cool. July figuresreleased last week showed payrolls increased more than forecast while the unemployment rate matched a 16-year low, as Americans came off the sidelines to join the labor force and many found work.
The JOLTS report also showed fewer people quitting their jobs, considered a gauge of workers' willingness to voluntarily leave because they're confident of finding a better job. That indicates faster wage growth, which has remained elusive in recent years, may still take time to materialize. The quits rate, which remains near its post-recession high, is among indicators of labor-market slack that Federal Reserve Chair Janet Yellen monitors.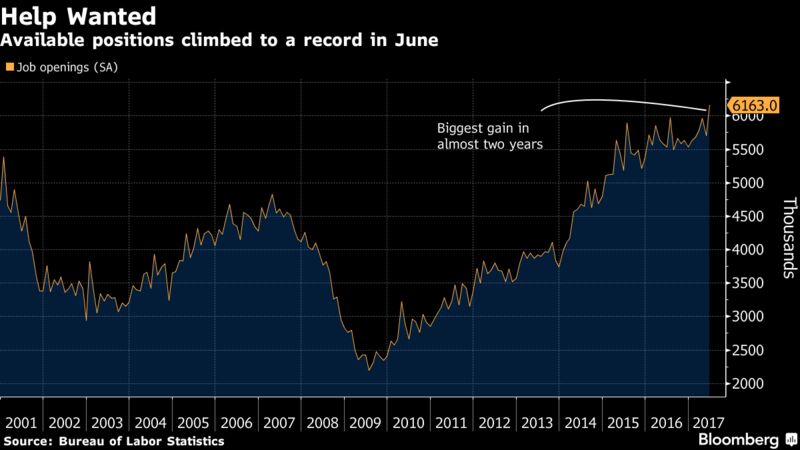 Other Details
There were 1.1 unemployed people vying for every opening in June, down from 1.9 people when the recession began at the end of 2007
Most industries showed a pickup in openings, including record postings for health care and social assistance and gains for professional and business services; retail showed a decline
In the 12 months through June, the economy created a net 2.3 million jobs, representing 63.4 million hires and 61.1 million separations
Although it lags the Labor Department's other jobs data by a month, the Job Openings and Labor Turnover Survey report -- or JOLTS -- adds context to monthly payrolls figures by measuring dynamics such as resignations, help-wanted ads and the pace of hiring
https://www.bloomberg.com/news/articles/2017-08-08/job-openings-in-u-s-surged-to-record-6-16-million-in-june
by
Add your quick reply below:
You must be a member to reply to this post.
Replies (1-10):
Add your quick reply below:
You must be a member to reply to this post.