Businesses slashed 140,000 jobs in third quarter of 2017

Data raises prospect of slowdown in buoyant labor market
Unemployment is at a 17-year low -- for now.
The economy suffered a net loss of 140,000 private sector jobs in the third quarter -- the first such loss since early 2010, according to Labor Department data issued today, with Florida suffering the largest contraction.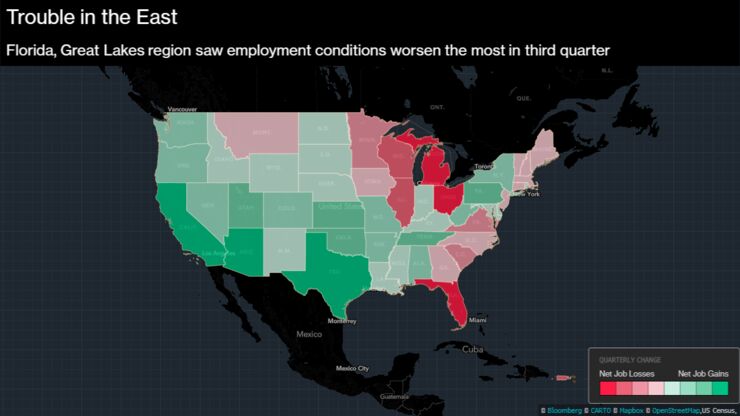 The smallest of firms -- with up to 49 employees -- were hardest hit.
Nationally, the unemployment rate has held steady at 4.1 percent since October.
| | | | | | |
| --- | --- | --- | --- | --- | --- |
| | Sept. | Dec. | Mar. | June | Sept. |
| | 2016 | 2016 | 2017 | 2017 | 2017 |
| Gross job gains | 7,689 | 7,455 | 7,328 | 7,604 | 7,256 |
| At expanding establishments | 6,232 | 6,040 | 6,019 | 6,246 | 5,935 |
| At opening establishments | 1,457 | 1,415 | 1,309 | 1,358 | 1,321 |
| Gross job losses | 7,008 | 7,065 | 6,674 | 7,128 | 7,396 |
| At contracting establishments | 5,760 | 5,760 | 5,521 | 5,879 | 6,082 |
| At closing establishments | 1,248 | 1,305 | 1,153 | 1,249 | 1,314 |
| Net employment change | 681 | 390 | 654 | 476 | -140 |
https://megaphone.link/BLM1974168533
https://www.bloomberg.com/amp/news/articles/2018-04-25/u-s-sees-first-net-private-employment-loss-in-seven-years