Current Events & Hot Topics
Loved Ones Attend Wake for Natasha Richardson
Photo by: Erik C. Pendzich / REX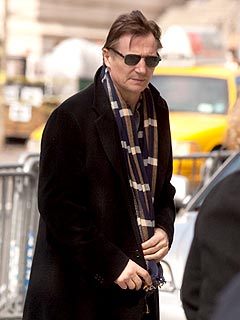 Liam Neeson gathered with friends and loved ones at the American Irish Historical Society on Manhattan's Upper East Side Friday afternoon for a private viewing of his wife Natasha Richardson's body two days after her tragic death following a ski accident while on vacation in Canada.

Among those attending were Uma Thurman, Diane Sawyer and Richardson's mother, Vanessa Redgrave, and sister, Joely Richardson.

At 2:20 p.m., shortly after a silver hearse pulled away from Society headquarters on Fifth Avenue, across from the Metropolitan Museum of Art, Neeson, in a black suit and dark sunglasses, arrived in a black Mercedes and walked quickly inside with one of his young sons, pausing only long enough to greet one mourner.

Longtime Richardson friend, Mathilde Krim, who is the founding chairman of the AIDS research organization amfAR, described the wake as "very respectful." The tearful Krim told PEOPLE that Richardson, looked "beautiful, incredibly beautiful" in her casket.

The previous night, when Broadway paid tribute to Richardson by dimming marquee lights for a one minute, Neeson was captured on tape speaking of "a traditional Irish wake," presumably this Friday's event.

Soon after Neeson's arrival, Vanessa Redgrave showed up with a small child in her arms. As those paying respects continued to stream in, food arrived for the mourners commemorating a woman who will long be remembered as one of the theater world's most graceful actresses. Neeson, who has sons Micheal, 13, and Daniel, 12, with Richardson, married his wife in 1994. They would have celebrated their 15th wedding anniversary on July 3.

In a statement Friday, friend Sarah Jessica Parker, quoting the song lyrics "Every time we say goodbye, I die a little/Every time we say goodbye, I wonder why a little," said: "It's as if Cole Porter were writing the sentiments of everyone who was privileged enough to know, work with or love the late great Ms. Richardson."
Photo by: Eric Thayer / Reuters / Landov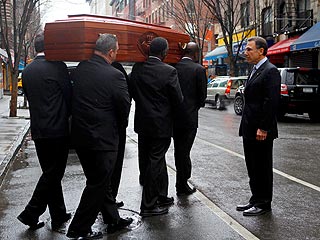 • Reporting by ALLIE GROSS and ISLEY KASICA
source: people.com
G.O - Celebrity Babies

Everything Ohio - Playdate and MNO info
G. Admin - Britney Spears Fans
Check out the Elvis Fan Group
by
Add your quick reply below:
You must be a member to reply to this post.
Replies (1-2):
Add your quick reply below:
You must be a member to reply to this post.