Current Events & Hot Topics
Thousands join London G-20 protest
That's a lot of people, I hope it stays peaceful, but i saw a couple "incidents" on tv...
Thousands join London G-20 protest
Story Highlights
20,000 people expected at Put People First march ahead of G-20 summit
Police say protest expected to be peaceful
Authorities have warned of unprecedented demonstrations in week ahead
LONDON, England (CNN) -- Thousands of people have converged in the center of London for the first major protest ahead of next week's G-20 summit.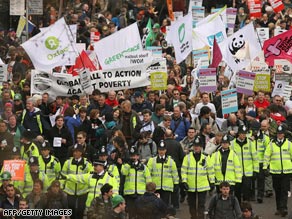 Up to 20,000 people are expected to join Saturday's protests in London.
Despite fears of violence in coming days that have prompted a major security operation in the British capital, Saturday's demonstration has so far been peaceful.
As many as 20,000 people were expected at the Put People First march, organized by trade unions but backed by some 120 other groups including environmentalists, church groups, and political campaigners.
Authorities are bracing for possible violence as anti-capitalist and environmental protesters to converge on the Bank of England next Wednesday -- April 1 -- for a "mass street party" dubbed "Financial Fools Day."
Protesters gathering on Saturday were calling for jobs, fair distribution of wealth, and a low-carbon future.
They carried banners and posters reading "Climate Emergency," "Gaza: End the Blockade," "Planet Before Profit," "We Won't Pay for Their Crisis," and "Jobs not Bombs."
Some groups turned out to march in bright-colored rain ponchos or hard hats.
The day began with a church service in central London. The Salvation Army, which helped organize the service, said it was a "perfect opportunity to ask the G-20 to consider the world's most vulnerable people."
Those at the service sang "We are blessed to bless a world in pieces." They asked for freedom from debt and justice to profit, the Salvation Army said.
After gathering along the Thames River and marching along its banks, marchers moved past Trafalgar Square to Hyde Park for a mass rally in the afternoon. Speakers at the rally include trade union bosses, environmentalists, and global justice campaigners, along with musicians and a comedian, according to march organizers.
The G-20 summit next Thursday brings together leaders and financial chiefs from the top 20 industrialized and emerging economies, along with leaders from non-G-20 nations.
Hundreds of other officials will also be there, including the heads of the International Monetary Fund and the World Bank.
http://edition.cnn.com/2009/WORLD/europe/03/28/g20.protests.saturday/index.html
by
Add your quick reply below:
You must be a member to reply to this post.
Replies (1-1):
Add your quick reply below:
You must be a member to reply to this post.