Advice for Moms
Two Decades of the Winter Olympics: Todd Lodwick, Flag-bearer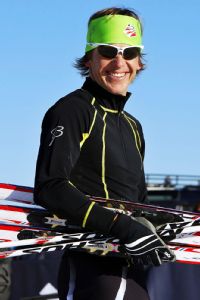 SOCHI, Russia -- Twenty years ago at the opening ceremony of the Lillehammer Games, 17-year-old Todd Lodwick walked in with the U.S. team and then watched in wonder as his mother stormed down the stadium steps through crowds of white-clad spectators, determined to get as close as she could. The young Nordic combined phenom detoured out of the procession to hug her.
He'll have to stay in step Friday. Lodwick, the first six-time Winter Olympian from the United States, was selected by his fellow athletes as flag-bearer.
The honor caps a few weeks of wildly oscillating emotions for Lodwick, who won the U.S. Olympic trials in late December only to crash on a ski jump landing less than two weeks later, dislocating his left shoulder and seemingly jeopardizing his chance to make history.
Todd Lodwick is still on the mend, but it won't affect his responsibilities during Friday's opening ceremony.
But Lodwick, now 37 and a father of two, rehabbed furiously, pushing through up to three sessions of physical therapy daily and doing lower-body cardio training with his left arm in a sling. He'll walk Friday still healing from non-displaced fractures in his shoulder and one rib, a torn labrum and soft tissue injuries, but said "no way" would that keep him from his appointed task.

"I'm 90 percent, and it's not going to be an issue," said Lodwick, a Steamboat Springs native who sported a state of Colorado cap as he spoke to reporters.

"To represent the 230 athletes who get to walk behind me is humbling," said Lodwick, who added that he was proud to follow in the literal footsteps of previous flag-bearers Scott Hamilton (figure skating) and Bill Koch (Nordic skiing).
What was your life like twenty years ago, when Todd Lodwick first competed in the Winter Olympics? Do you remember watching any of the Lillehammer Olympics (think Nancy Kerrigan)?
by
Add your quick reply below:
You must be a member to reply to this post.
Replies (1-10):
Add your quick reply below:
You must be a member to reply to this post.