Advice for Moms
I can't stand it!!!!!!!!!! *EDIT FOR AN UPDATE!*
DD is 2 and a half. She is driving me totally insane! I realy don't know what her problem is! She doesn't listen to a word I or DF say. We tell her not to do something or stay away from something and it's like she doesn't even hear us. She totally tunes us out. Doesn't even acknowledge we said anything. (Her hearing is just fine btw). She acts like an infant. Anytime we say anything to her she cries. We tell her no, she cries. We tell her stay back, she cries. We tell her don't throw things, she cries. We tell her to be quiet, she cries. Everything we say to her, she cries about. Everything we tell her, we have to tell her literally 10 times, and she still doesn't listen to us, just continues doing it. We can't take her over to visit people, or have people come visit us because she freaks out when people are around. She hides from people. She won't talk to anyone and acts like she's terrified of everyone. The other day she screamed her head off crying the entire time a couple friend of ours was here with their baby. She was crying so loud, the whole time, that we couldn't even talk to each other because we couldn't hear each other. She won't ever tell us WHY she's crying either. So we have no idea what her problem is. People never come visit anymore and I know it's because of her. She's that annoying kid that everyone knows and can't stand. She's never good, EVER. I hate to say it, but I honestly can't stand her anymore. She drives me nuts. When I'm home, I want to leave. I want to leave and not come back. I can't deal with her anymore. What the hell is her problem? Why can't she just listen once in a while? Why does she cry CONSTANTLY?? We have tried spanking, time-outs,taking things away, yelling, ignoring her when she cries. We have tried EVERYTHING we can possibly think of. Nothing gets through to this child. I'm really at the end of my rope. I can't take anymore. I need somthing to give here. I don't know what else to do. I love her with everything in me, but I just can't deal with the not listening and especially the constant crying and whining like she's an infant. What the hell is wrong with her? Or is it me?
Ok so I took some of the advice you ladies gave me yesterday and am using it today. So far I haven't had a problem with her today! YAY! She is actually behaving and I'm not repeating myself 500 times! It is only 1:30, so we'll see how the rest of the day goes, but so far so good! Thanks for the great advice ladies! Hopefully it continues to work. I realized that maybe she is bored. We are usually hurting for money, so we don't really have much gas in my vehicle, ever. So basically our days consist of sitting in the house with cartoons on all day. I have a 3 week old baby (and before anyone says anything, no this is not why she acts the way she does because she's been acting this way since before I was even pregnant.) so we can't sit outside in the hotness and play until after DF gets home from work, and when that time rolls around, we have other things to do, like preparing and eating dinner and then the clean-up afterwards, then it's bath time at 8 and bedtime at 8:30. BUT, I'm working on getting out to do more things with DD. Me, her, and her baby sister went for an hour and a half long walk early this morning(before it got too hot for baby) at the resevoir, and are going to the park just me and her when DF gets home to take the baby. The park is somethng I've used as a reward for DD if she's good all day. Anyways I just wanted to let you all know that I took your advice and am putting it to use, and so far it's working out great! Thanks so much!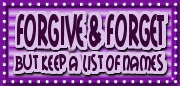 by
Add your quick reply below:
You must be a member to reply to this post.
Replies (1-10):
Add your quick reply below:
You must be a member to reply to this post.