Babies
Car seat safety facts and state laws
By Michelle Maffei

Car seat laws and safety guidelines have been created to protect your kids, who are your most precious cargo. Yet, with the vast number of car seats and options out there, it can be confusing to even the most prepared of parents! To help you pin down the facts, the American Academy of Pediatrics has issued the following guidelines for child passenger weight and age limits for car seats and boosters for infants, toddlers, preschoolers, grade schoolers, and older children.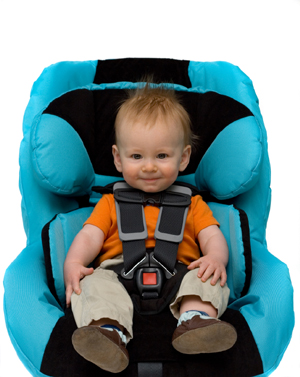 Starting with the first ride home from the hospital, your newborn baby should safely ride in a car seat. Before you buckle them up, find out the top picks by parents when it comes to car seat safety and learn about the age and weight limits for each phase of your little passenger's journey.
Infants
: Rear-facing until at least 20 lbs. and 1 years of age
There are two types of infant
seats: infant-only and convertible. Popular bucket style infant-only baby carriers include the Chicco KeyFit, which can be transferred from base to base. Some parents who prefer convertible car seats, which face backwards until your peanut is big enough, are fans of the Britax Roundabout. "I had an infant carrier…until about 15 months," says Heather G of California, mother to a 19 month old daughter. "Then I bought a convertible hoping to keep her rear-facing for longer. But, her legs got all squished up, so now she is forward-facing."
Toddlers and Preschoolers: Convertible seats and forward-facing seats with five-point harness
Convertible car seats and forward-facing seats typically fit children up to 40 lbs, but some higher priced models work until your little munchkin is 60-100 lbs like the Britax Boulevard. However, some forward-facing seats with the five-point harness can also eventually convert to use with the shoulder belt, such as the Sunshine Kids Radian65, so you won't have to buy a booster.
School-aged children: Booster seats until about 4' 9" tall and about 8-12 years of age
Once your sprout outgrows the forward-facing car seat, they'll make their way into a booster seat, such as the Cosco High Rise Booster. For those little passengers who are big enough for the adult seat belt to fit them correctly, look for boosters that offer a weight minimum as low as 33 lbs. like the Combi Dakota Booster. You'll know that your youngster is ready to jump from the car seat to the booster when:
His shoulders are above the top harness slot
His ears reach the top of the seat back
Older children: Seat belt in the back seat until at least age 13
Once kids outgrow their booster they are ready to have their seat on the seat of the car. Even if your kiddo meets the age requirements to ride without a safety seat, here's how to know that he's ready:
The seat belt should lie across the middle of their chest, shoulder, and upper thighs
The best should not lie across their neck, throat, or belly
Your child should be able to bend their knees with back against vehicle seat back without slouching
Now that you know they are safely buckled in, find out how to keep them entertained while on the ride! And, for more tips to help keep your child passengers safe, visit the America Acadamy of Pediatric's car safety seat guidelines.
Each state has slightly different car seat laws. Check out all the car seat laws by state here.

For more on car seat safety:
by
Add your quick reply below:
You must be a member to reply to this post.
Replies (1-2):
Add your quick reply below:
You must be a member to reply to this post.