Pregnancy
In your opinion, are ultrasounds safe?
Do you feel that ultrasounds are harmless?
Or do you prefer to avoid exposure?
What are your thoughts??
What about Safety?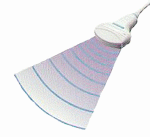 It has been over 40 years since ultrasound was first used on pregnant women. Unlike X-rays, ionizing irradiation is not present and embryotoxic effects associated with such irradiation should not be relevant. The use of high intensity ultrasound is associated with the effects of "cavitation" and "heating" which can be present with prolonged insonation in laboratory situations.
Although certain harmful effects in cells are observed in a laboratory setting, abnormalities in embryos and offsprings of animals and humans have not been unequivocally demonstrated in the large amount of studies that have so far appeared in the medical literature purporting to the use of diagnostic ultrasound in the clinical setting. Apparent ill-effects such as low birthweight, speech and hearing problems, brain damage and non-right-handedness reported in small studies have not been confirmed or substantiated in larger studies from Europe. The complexity of some of the studies have made the observations difficult to interpret. Every now and then ill effects of ultrasound on the fetus appears as a news item in papers and magazines. Continuous vigilance is necessary particularly in areas of concern such as the use of pulsed Doppler in the first trimester.
The greatest risks arising from the use of ultrasound are the possible over- and under- diagnosis brought about by inadequately trained staff, often working in relative isolation and using poor equipment.
A discussion on the various possible effects of ultrasound on the human fetus can be found here. Ultrasound scans should best be performed when there is a clear indication to do so. When there is, safety considerations should not be an issue to prevent its prudent use.
How about a little help-info-encouragement-support for Natural Birth?
Join us in the Natural Birth Group!
by
Add your quick reply below:
You must be a member to reply to this post.
Replies (1-10):
Add your quick reply below:
You must be a member to reply to this post.