If you'd like to learn how to make an animated siggy like the one below, here is my Paint.net tutorial.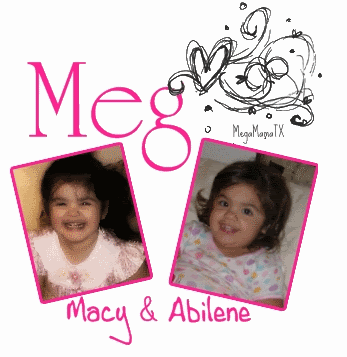 **This tutorial is strictly for using Paint.net.
HOW TO MAKE AN ANIMATED SIGGY:
1. Open Paint.net and select a canvas size of about 350 x 350 or so.

2. I usually make the background black or transparent so I can see what Im working with.

3. Next add a new layer (or several) and create your image. I use new layers for each part: text, picture 1, picture 2, and doodle graphic. It makes making changes (resizing, tilting, effects) much easier.

4. Once you have one completed siggy, delete the black/transparent layer (bottom) and save it as a Paint.net file.

5. Then save it again as a .gif file (not a .jpg).

6. Close that out and reopen the Paint.net file you just saved of your siggy #1 file. Do not reopen the .gif file.

7. Add a new layer, paint it black and move it down to the bottom layer. Now you should have two layers.

8. On the top layer, the one of your siggy #1, cut out the pictures you just used so you can replace them with others. I used the magic wand to do this.

9. Then pop in new pictures.

10. Remove the black bottom layer, FLATTEN and save siggy2 file as a .gif file.

11. Make one more siggy (#3) and save it as a .gif file. You should then have 3 different .gif files (each with different pictures). You can make as many as you want, I just used 3.

12. Download UnFREEz to animate your siggy here.

13. Open UnFREEz. A small window should have opened.

14. Open the folder with your saved siggy.gif files.

15. Drag & drop them into the UnFREEz window box and they should appear there. Add all 3 files. Then select your delay time (I used 140) and save. I had to do this step a couple times as I wasnt sure about the delay time. 100 made it loop too fast. The higher your delay time, the longer your picture will display.

16. Once you have your .gif animated siggy saved how you like it, upload it to http://www.photobucket.com. Then you can copy and paste the image into your signature manager here on CafeMom.

Hope this helps! Ask any questions and I'll try to help you out.

Feel free to post your siggys so we can see them!