This movie was so good, I went to see it twice.
In the same day.
First time was at 11am with a good friend of mine, and then again at 7:30 with another good friend of mine. Unfortunately the two good friends of mine don't get along well with each other hence the going twice part.
I thought Trevor was going to give me a hard time about it, and I was about to mention that just last weekend he stayed out all night without even a hint of a phone call. (I know what you all are thinking. ) His band had a show and he ended up crashing at one of the band member's houses. But still I was ready to ring his neck. Do you know how nerve wracking it is to wake up at 5am the NEXT DAY and realize that your husband isn't home yet. *shudder*
Anyway, I was surprised that I got so emotional at certain parts. I never used to be like that. It's all these mom genes I just know it.
House hunting is going alright. We may be seeing one tomorrow. This is a 4Br with hardwood floors, and a fireplace. Looks nice from the pictures so we'll see. We're hoping that the sellers are willing to do rent-to-own. We need to get out of where we are now.
Tonight, Trevor and I are going on a date. Sort of. Brenna's going to be there. We're going to the mall. We barely ever hang out anymore. We're always so busy and I'm always so tired. I feel bad and I feel like I neglect him, but he can never just cuddle with me. It always has to turn into something else. Just because I lay down next to you does not mean I want your hand on my boob.
Still trying to think of some ideas for my book. Very frustrating at times. I want the perfect plot.
Tomorrow is library day! Brenna loves the library. We go down to the children's section and she runs all over the place testing out the different toys & activities. Last week she met a friend. A boy.
They were playing hopscotch together on the rug. He kept prompting her to share the beanbag they used for the board.
"It's my turn now. See," he'd hold out his hands, "my turn" He had so much emphasis in his voice it almost made me giggle.
Seeing her enjoy hopscotch so much prompted me to buy this for her room: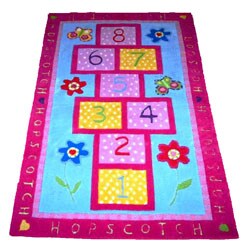 Better get going back to work. I only have 2 hours left!