Having a child with Down syndrome means not being the "typical" family....being different, in which I love! I am different myself, so I am going to teach her that meaning! It means a challenge which I am always up for. It means luck, for I was the one to get her and no one else!
WHAT MY CHILD MEANS TO ME IS JOY HAPPINESS AND NEVER A DULL MOMENT. MY LITTLE MAX IS THE GREATEST THING THAT HAS HAPPENED TO ME IN MY LIFE. GOD ONLY GIVES THESE SPECIAL CHILDREN TO FAMILIES WHO HE KNOWS THAT CAN HANDLE THEM. HE IS THE JOY OF MY LIFE AND MANY OTHERS. THE LITTLEST THINGS MAKE HIM SMILE AND THEN I SMILE.. THINK OF HAVING A CHILD W DS A BLESSING NOT MANY GET THE CHANCE TO HAVE SUCH A BLESSING.
There are no exact words about how special I feel that my son is to me. It's so hard to describe...He makes me feel like I'm living in Heaven on Earth. He is a special gleaming energy that lights up my every day. His smile...his hugs...his kisses are what makes my heart beat so fast. I feel so very proud to have him in my life...every night...every night when I go to bed,I ask God why me? What did I do so spectacular in my life that God chose me to be his mother. I wait in anticipation when I meet God for the first time and get a response to this question.
My daughter, Macaela, means the world to me. She has taught me many things, that I will be forever greatful for. She has taught me to laugh again (since her baby brother passed away) and she is the reason I get up in the morning. My daughter has taught me unconditional love and not to take the little things in life for granted. I love my daughter so much. She is the reason I am still living.
It has been 10 months since Aiden came into my life. He was 41 days early and have very significant heart defects. Since then, he has battled a heart surgery that he was given only a 3% chance to survive, complications from his heart surgery that landed him in the hospital for 5.5 weeks.
Another complication from the heart surgery that landed him in another hospital for a month. He sees more "ists" than I thought possible for someone his age. However, it just goes to show how strong he is and that his name is appropriate. Aiden means "fire".
Many people comment on how strong I am. I'm not strong, I just do what I am supposed to do as a mom. There are other trisomies that are harder to deal with than Down syndrome. And when I came to the realization that we both "have" Down syndrome, it was a lot easier to swallow. Yes, I said WE have Down syndrome. It isn't something that is going to go away. Aiden will always be in my care. I go to all the doctor appointments with him and when he is admitted, I get admitted as well.
As a 10 month old, Aiden does things a little slower than most. He was 9 months old when he held his head up for the first time without support. He has just learned to sit with support. Those are things every baby does at some point. No baby does things on the same time line as the next. His foot goes into his mouth, thankfully not at the same time is thumb does. He rolls around on the floor to get to his toys that have been placed strategically around the room. When his therapists come to the house, he acts like he hasn't learned anything. It's like he knows the more he shows them, the more they make him do.
Everyone who meets Aiden, falls in love with his smile and his bright blue eyes. He charms nurses and therapists. He has more people wrapped around his little pinkie than he knows what to do with. He loves to hold hands and gives kisses and hugs to anyone holding him. He will sing to you when he is tired but doesn't want to go to sleep.
It has been one year since we got the diagnosis. Yes, Aidenhas Down syndrome. But that mutant gene isn't a flaw, it is part of his charm. And I wouldn't change that charm for anything in the world. I always thought that it was a parents job to teach their children. However, I have learned more from Aiden than I ever imagined.
Giovanna is such an inspiration. She has shown my Husband and I how precious life is and the true meaning of unconditional love. She's the light of our life. She's a true angel. We are honored to be her parents and look forward to her future. The skies the limit!
Its so hard to put into words the special love I feel for my son, Ryan. All I know is everytime I look at him something happens to my heart. I can actually feel my heart melt or sometimes even break for him. I have this overwhelming desire to always protect him and keep him safe. He gives meaning to my life. I have found my reason why I was put on this earth. Ryan tells me everything single day, "I love you, Mom!" and honestly, I never get sick of hearing him say that to me. I have watched my small baby son and now a man, fight to live so many, many countless times for his life due to every illness you can think of, but Ryan somehow, always pull through. I admire his compassion, strength and love. He is my HERO.
We found out Brianna had Down Syndrome on the day she was born. From that day on I have vowed to do everything I can for her. She has brought great joy to our family, I can not even imagine my world without her in it. She makes me smile everyday. Shes 18 months and has been through 4 surgeries among other things. She has made great progress developmentally, she is crawling, pulling her self up and walking along furniture, eating more and more by mouth. She is just one of the best things that has happened to me. I love my little angel so very much!!!
Dylan is hope and courage. He is sunlight and laughter. He has given me the courage and strength to become a proud advocate for Down syndrome.He has taught me that happiness is found in the tiniest things. A ladybug tickling the palm of your hand and seeing the first stars appear in the evening. His joy is contagious and we proudly spread it as much as possible.
---
I have 2 daughters, Kylee and Auriana. They are both very special to me and they are both blessings from God! Auriana is our miracle baby. When I was about halfway through my pregnancy with her, I was told that she has a serious heart condition called Antrioventricular Canal Defect, and most likely had some form of Trisomy. At that point, right then and there, I knew that Auriana was going to be a very special little girl! I was determined that she was my child and no matter what difficulties she may be born with, she would be perfect to me! The night before she was born the doctor told me not to bother having a C-section because Auriana wasn't going to live. She gave me a one percent chance that Auriana would make it out of the delivery room alive. I ended up demanding a C-section when her heart rate dropped, and this is what saved her life! She was born 5 weeks early, breathing on her own, kicking and screaming! Her diagnosis is AV Canal Defect, large PDA, and Down Syndrome (Trisomy 21). Since then, she has continued defying almost everything the doctors say. She still has a long road ahead, but she is such a little blessing to our family! She always makes us smile. I fought for her from the beginning, and I will continue to fight for her. I can already see she has inherited the fighting attitude. To me, Auriana is a symbol of faith! After all, Faith is her middle name. Anything can happen if you have a little faith!
Hello everyone My Name is Linda and I'm from Michigan I have 2 of the greatest kids Lindsey she is 9 years old and James who is 10 months is my special GUY that has something special. There a lot to say about my kids. I am very Happy and blessed to have them in my life along with my husband Kirk. We are a very Happy Family...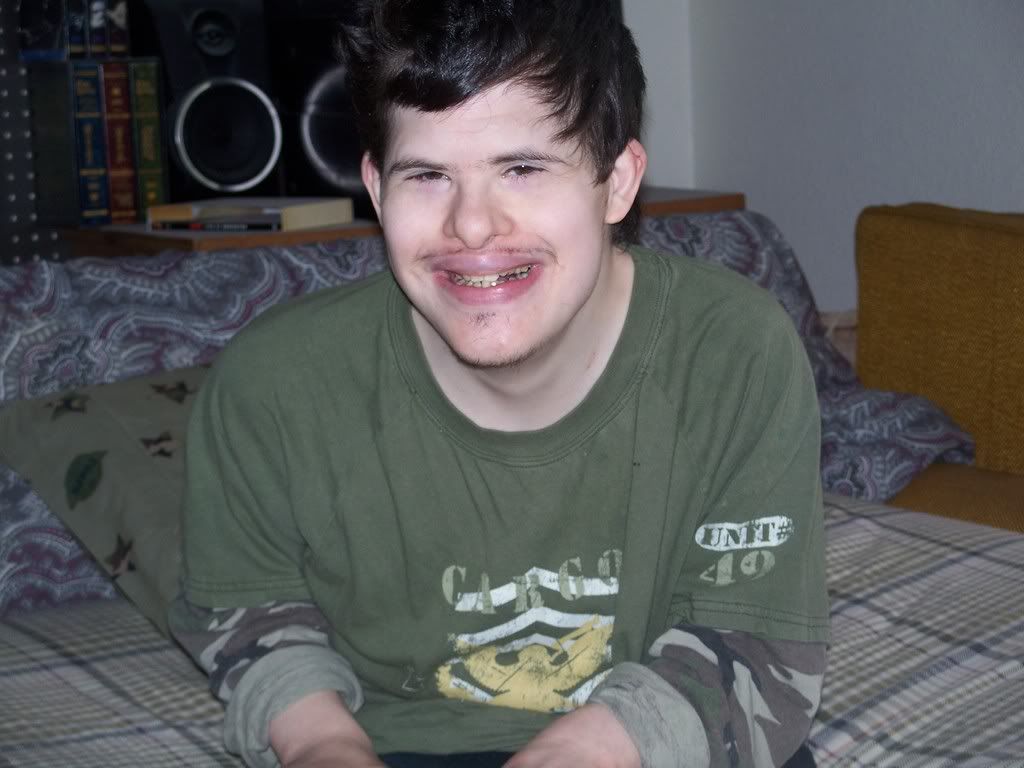 I find sometimes that it is hard to put into words how I feel about J. He is my Angel sent to me by God. I can say that there has been no greater blessing in my life, than when I had J. God has blessed me in so many ways. I am so thankful to Him for my Angel that He has sent me. The journey that I have had with J has had it's ups and downs, but the joy... is so indescribable. I can tell you that I never knew the deeper meaning of love, until I had J. J loves you unconditionally. He doesn't care what you have done, only that you love him as much as he loves you. His laughter is contagious. His smile lights up my whole being. He warms my soul. He has touched my life in a way that I can't even begin to describe. And his presence has made my life complete.
I was given the greatest gift possible, and I never even asked for it! I never knew, let alone understood what it could mean to have a child with Down syndrome. But at midnight on a Spring day in 2005, I was blessed with the greatest gift. A precious little one came into the world, and into our family. He was such a beautiful little baby, so precious and sweet. When they told me he had Down syndrome, I could hardly believe it. To me, he was my son, beautiful, warm, snuggly! I didn't fully understand Down syndrome then, I just knew that I was already head over heels in love with him, and it didn't matter! As he has grown, I have been let in on the secret of what life and love is all about. His laughter and smiles are unending, his love endless and boundless, his heart so pure. He is my joy, my pride, my heart, my world. He melts hearts with his smiles, lightens the harshness of this world with his laughter and love. What does he mean to me? EVERYTHING!
My son Niko is now 5 months old. He has brought something to my family I find hard to explain. My 4 year old now has someone to mentor and love for being smaller than he is. My 10 year old is now a "little momma" and an advocate for her brother with Down syndrome. She is strong and tireless in her pursuit. My 16 year old (even though he lives with his Dad) has fallen in love with this "wild haired chick magnet" as he so lovingly calls him. My husband has reaffirmed my belief that he is the most caring and kindest man in the world. This beautiful little boy has brought a new kind of joy to my family, one that has gained enormous strength and continues to grow like a snowball rolling down the mountain. I now know that whatever obstacles my son has to face in the future, he will do so with the love of his family and the grace of God
Gloria Jr came into my life when I was 26 years old, not knowing she had Down syndrome at birth I was little surprize, but not shocked. From the moment I saw her I fell in love with her. She is the youngest of my 3 beautiful daughters. What the doctors told me she could not do she did. My life is very full of the most wonderful people ever, because of her.
I have never been so greatful in my life to be chosen to be her mother. She has open my eyes to what real love is all about. She has taught me to laugh in the mist of my problems of life. She has given me the courage to stand up for my faith in God and his son Jesus. As she is a shining example of his unfailing love for each and everyone of us on this place we call earth. He has a purpose for her as well as all these special people and it to show us just a little slice of Heaven!!
It's hard to come up with the words to really express what my son Andrew means to me, I guess I would say he is truly the light of my life. I have learned more about life from him than you could ever imagine. I just look at him and have to smile, he lights up a room the minute he walks in. I truly feel I am so blessed to have him, I would never want to change anything about him, he is absolutely perfect.