Ok, this looks like a LOT of information, I know. But there are a lot of options now for cloth diapers depending on how much you want to spend and how easy you want it to be. So I'm just going to sum up all of the choices, and I can give more details on anything. If you have any questions at all, be sure to check out my group! http://www.cafemom.com/group/clothdiapers
So here are the basic types of diapers out there with links and pictures so you can see what they look like. These are in order from cheapest to most expensive, which is also generally hardest to easiest. (The pictures were snagged from google. If they are yours and you want them down, or you want credit, please PM me and I would be happy to work with you or find another picture.)
Flat.
These look like thin recieving blankets. You have to fold them up oragami style and use a cover. VERY cheap but also very impractical.
http://www.diaperware.com/picturepages/flatfolding.htm
Prefolds.
These are what most people consider burp rags. They are rectangular and sort of seperated in thirds, with the middle section thicker than the outside sections. (Did that make sense?) You fold them in thirds, then lay the baby on them, unfold underneath the baby, bring it up through his legs, and pin the sides together. There is also a thing out now called a snappi so you don't have to use pins. It's really hard to explain without a picture, so check out the second link and picture, but basically it's a "Y" shaped piece of rubber with plastic gripper teeth on all three ends. You grip both sides of the diaper and then pull down in the middle to keep the diaper on without pins that could stick your baby. You can get prefolds generally for around $24 a dozen, and snappis are about $3 for a 2-pack and last about 6 months.
If you go with these, get standard size. Unless you have very small babies or a premie, the newborn size is a waste of money since you can fold them down to fit even the smallest baby. They will be bulky at first, but by the time your baby cares about the bulk they will have grown into them And I really don't reccomend bothering with the Gerber prefolds they have at Walmart and such. They hardly hold anything and leak like crazy.
http://nickisdiapers.com/catalog.php?category=214 (prefolds)
http://nickisdiapers.com/catalog.php?category=125 (snappis)
Contour.
This is like a prefold (it needs a cover) for people who don't want to fold. It is several layers of absorbant fabric sewn in the shape of the diaper. These are usually around $8 a piece.
http://nickisdiapers.com/catalog.php?category=6
Fitted.
Like a contour, but with velcro so you don't need pins or snappis. These vary GREATLY in price, so shop around for different brands. (These need a cover also)
http://nickisdiapers.com/catalog.php?category=2
Covers.
Prefolds, flats, contours, and fitteds all need covers. There are the cheap vinyl pull up pants like you see in Walmart, and they work if you're on a budget. But the most popular covers are made of PUL (polyurithane laminate). PUL is waterproof, yet very breathable so diaper rash is really rare. The really cool thing about PUL covers is that they don't need to be washed every time you use them. You can just wipe them out and lay them to dry. I wash mine about once a week unless I have a poop blowout, in which case I wash them right away. These are generally around $11 a piece, but you only need about 3-5 of them. You can also use heavy fleece or lanolized wool as a cover. Fleece is cheap and easy to make yourself, I haven't looked into prices on ready made ones. Wool is pretty pricey, generally about $40 for one, but worth the money for a number of reasons. I will let someone else explains the pros and cons of each, since I don't have a lot of experience.
http://nickisdiapers.com/catalog.php?category=3
Pockets.
Pockets are one of the easiest ways to cloth diaper. It is basically two layers, the inside layer is absorbant and the outside layer is waterproof. The back of the diaper is open so that you can stuff it with however many absobent layers as you need. Less for the daytime and more to last through the night. BumGenius 3.0 is the most popular brand of pocket diapers, and they are one-size fits all adjustable so that they last from 5-30 pounds. These can run about $18 a piece, but when you take into consideration that they generally last through potty training, they are a really good choice.
http://nickisdiapers.com/catalog.php?category=11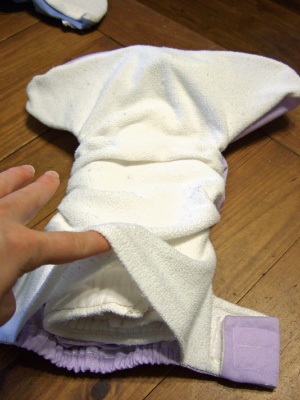 All-In-Ones.
AIO's are the most convenient on the surface, but they take FOREVER to dry and they are really hard to rinse properly, so I dont' reccomend them really. They are the most husband and daycare friendly though. Basically they are exactly what they say. Several absorbant layers sewn right into the waterproof outer layer. They go on with velcro or snaps in one piece. These can go from $18 to $25 or so.
http://nickisdiapers.com/catalog.php?category=1
Of course there are designer brands of just about all types. I've seen contour diapers go for $30 a piece just because of the tag. Designer diapers aren't common though. There are plenty of economic brands out there.
You can also apply at www.miraclediapers.org for free prefold diapers. They are loaned to you if you meet their requirements.
www.diaperswappers.com is the best place to go for used or work at home mom diapers. I know used sounds gross, but there are ways to sanitize them so that they're safe.
And if those prices seem high, check out this breakdown of cost: http://www.diaperdecisions.com/cost_of_cloth_diapers.htm