Poll
Question: For those into makeup, how often do you wear it?
Total Votes: 40
Lately I've been getting some comments on my eyeshadow work & asking for tips & what I use so I'm creating this journal to refer to & ease reitteration:
I have a number of my looks posted in a post I edit over time feel free to check it ou:
http://www.cafemom.com/group/102281/forums/read/10620852/MFFX_Burnt_Orange_OJ_Stiletto_Wed_4_21

For what eyeshadow I use, its a mix of things. Mainly Coastalscents palettes. There are numerous reviews of it on youtube if you care to check it out. & for the amount of colors you get + its vibrancy compared to high brands like Mac/Urban Decay its a great deal. Wonderful set for starters wanting to experiment what colors work best on them or those wanting to step outside the box & have fun with varying hues. Their official site is:

http://www.coastalscents.com/cfwebstore/index.cfm

I also use Loreal Duos which you can pick up at your local drugstore or places like walmart/target. They're great because they come in various formulas from matte to metallic & the fact that they are color coordinated you really cant go wrong with putting them both on.

& recently there is a group on cafemom I joined & the owner sells awesome mineral shadows & in the group many members share their daily looks in a non-competitive manner and have been inspiring me to keep practicing & trying unique styles. The group is Beauty Tips & Tricks if you may be interested feel free to check it out: http://www.cafemom.com/group/102281

Also something not everyone is aware of is using an Eyeshadow Primer. It helps with:

-allowing your eyeshadows adhere/attach better to your skin

-assist with making it last longer

-prevent/reduce creasing depending on how oily your lids tend to get

-provide a barrier between your skin & shadows, which is especially helpful for shadows that may stain

-makes your shadows pop

I personally use too faced eyeshadow insurance. Another popular one is Urban Decay Primer Potion. They're higher end one's and are costly for about $17. A cheaper alternative is Loreal's Decrease


Then there's Bases which individuals can use alone or ontop of a primer to assist with making your eyeshadows pop. A popular one is nyx jumbo pencils (particularly in milk) or mac's paint pots. One can also try Loreal HIP's Cream Shadow Paint in Secretive.

In regards to those wanting to do eyeshadow techniques just as well, it just takes plenty of practice & having particular types of brush to achieve certain parts of a look. & let me tell ya my first smokey eye made me come out looking like a racoon hehe.
The brushes I use are certainly a combination of all sorts. From Sally's Salon's "Facial Secrets" & CVS's "Essence of Beauty", which tell you exactly what the brush is used for, to Estee Lauder & Avon brushes. A good quality, affordable priced, & easily accessible brushes that have been getting a lot of attention are Sonia Kashuk's line at Target.
Must have brushes besides an all over lid brush in my opinion are:
angled liner brush for doing defined lines, filling your brows, or lining your eyelids

crease brush for providing more controlled shading within the crease. Great for smokey eye looks.

blending brush to soften harsh edges/lines
Also a great basic to know is the varying location on your eye area. When reading/watching eye tutorials you'll hear a lot of refference to the outter crease, inner tearduct area, & brow bone. It's helpful to familiarize yourself with those terms. Also one's waterline is the wet line of skin next to your eyeball that your lashes are attached to. In the photo you can see it well on the bottom lid.

Now lets talk about color. To stay on the safe side you can stick to neutrals to enhance your natural beauty like taupe, grey, brown, golds, ivory, & beige. But dont feel hesitant towards other colors. You can still pop in a lighter shade of a color on your lid and accent it with neutrals to still pull off a great day look. Sometimes individuals feel a color is not for them, but trying a different hue of a shade can have the tendency of changing one's opinion.

Or you can look for colors that have the ability to make your eyes stand out more. Almay has palettes that are focused to bring one's eye color out that you can reference to. But don't feel limited by these. Many say one color is better vs another but as you experiment more with different shades personal preference can steer towards a different alternative. & you have to keep in mind skin tones can altar how some looks will completely vary on how well it appears to stand out from one person to another.

& when going with even bolder looks you can have fun with complimentary colors which are opposite colors on the color wheel spectrum which when placed next to each other appear even brighter.
Also, something great to note, if you want your eyes to appear bigger its better to gear yourself towards lighter shades, whereas darker colors will make your eyes seem smaller.
& adding a touch of white on your inner tear duct area will brighten your eyes & give you more of an awake look just as lining your bottom waterline with white liner will do the same effect.

Here's a few dramatic eye looks one can achieve:

The cat eye look was originally inspired from the old egyptian days. Basically its just a lifted curve on your eyeliner or shadow work from the outter corner of your eye towards the end of your eyebrow. To give more of an effect many like to line the entire eyelid for more dramatics. Here's my spin off of the idea.
smokey eye look is where one creates a darkened effect around the outter corner of your eye from lid to above the crease. Many times it is done with black but now has evolved into being able to do it with any significantly darker shade of a color. Here I used a dark purple.

Crease cutting/cutting the crease is just giving more of a defined crease to your lid where its not even on your actual crease rather more above it which also provides more lid space. Especially great for hooded & oriental type eyes.

Gradient Effect is where one goes from a lighter shade of a color family to its darker tone. you can take 3 different colors to achieve the look & blend between the seams or two shades well blended into eachother to create an outcome of 3 shades.

To semi-wrap this up, the majority of my learning is off of youtube tutorials. So definitely browse around for the looks you want to achieve there.
Some of my fav makeup gurus are: EmilyNoel83, MakeupGeekTv, ItsJudyTime, & MichellePhan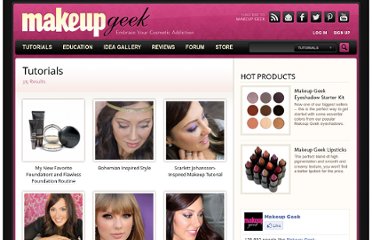 Lastly, I'd like to mention about www.taaz.com. Way cool site where you can add a photo of yourself and get a virtual makeover. Depending on the quality of your picture the look you come up with can really give you a pretty accurate idea of how some looks can potentially be on you. Here's a couple of me, keeping in mind my hair was pulled ALL back and no make up on, so this is pretty much the full effect, from even being able to thin out your eyebrows & adjust the hairline to contour to your face.

Hope you find this informative & good luck with everything for those deciding to venture into this art.
From Dramatic To Neutral Pinup & Smokey

Here's a vid on a smokey eye look @ 2:58 time she shares about a tape trick for definition.