AMISH & MENNONITE CAPE DRESSES From Lancaster, Pa.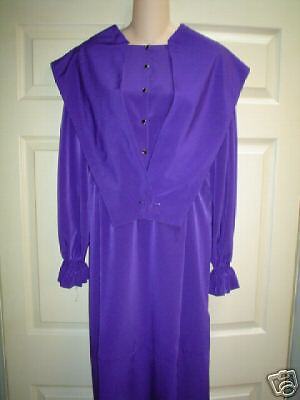 Showing how to pin on the cape before putting on the apron

The cape reversed, and the apron pinned.

Greetings! My Name is Sandra, I was born and raised in Beautiful Lancaster, Pa. County. Dutch Country, where I get to enjoy all four seasons of the year. There are Amish, Mennonite's, Farms, Many Farm Animals, and Horse and Buggies Everywhere.
I have been married to a God Sent Man for 20 years. He is my best friend. We had two son's together. One is 18 years old, and the other is 5 years in heaven at the age of 17.
We have two pet cats that are outside animals. We enjoy going to the public auctions, mudd sales, dancing and riding motorcycle.
I started selling online, on eBay 5 years ago. Selling any and everything in the house. Until God put Amish and Mennonite Dresses into my life. That is mainly all I sell today.
The best part of my job, is knowing that I am doing work that pleases God. Selling to women around the world Modesty Dresses. .
Blessings,
Sandra
Hobbies: Public Auctions, eBaying, Shopping, Dancing,
What I like to collect: ABC Plates, Agateware
What I like to sell: Amish, and, Mennonite, Clothing,Related items
What I like to buy: Amish, &, Mennonite, Clothing

Selling Modest Cape Dresses, was Heaven Sent. I didn't just wake up one day and decide, that I was going to sell, Modesty Cape Dresses. It just happened,
One year after my 17 year old son died from Cancer, AML. The same time my Husband lost his job of 18 years, I was a homemaker. I signed up for eBay and was selling any and everything around the house, to help make ends meet. Then one day out of the blue, God showed me and gave me the courage to start selling Dresses that would please him.
I have sold over 2,000 Amish and Mennonite Related items. I have written reviews, Proud to say in the top 10,000 ~ I have been labeled an Expert Author on Amish, and Mennonite Modesty Dresses.
I love my job, this is full-time work for me. All a gift from God, by just trusting, that all will be taken care of! A lot of my customers, are my friends today, Women from all around the World. Just Awesome!
The rest of my story is history.

GOD is AWESOME!
My store is about helping women that want to dress modest, a chance to buy a custom made modest dress, at an affordable prices.
My dresses are all pre-owned and gently worn. You are receiving, Quality Custom handmade dresses, made by some of the Worlds finest seamstress, the Amish and Mennonite Women, from Lancaster, Pa. Home to the oldest OLD ORDER AMISH SETTLEMENTS. Pa. Dutch Country.

Welcome to AMISH-MENNONITE-DRESS STORE! Where Buying Custom Handmade Amish Dresses and Mennonite Cape Dresses from Lancaster,Pa. Don't Cost You a Custom Price!
Store Policies: Shop and have fun, You have nothing to lose,buying my dresses! If you are not happy, I am not happy!
| | |
| --- | --- |
| Shipping: | Payment and shipment terms may vary on individual items |
| | If you live outside of the USA please send me your address, so I can apply the correct shipping and handling cost. Payment is expected with-in 3 days of the Auction Closing. I offer combined shipping, with a savings of $5.00 on each dress, after the first dress. |
| Ship to Locations: | (worldwide) |
| Return Policy: | I ship all dresses by Priority Mail. I go to the post office once a day, everyday, even with the high gas prices. So my customer's may receive their dresses as soon as possible. I offer a 7 day exchange on dresses for any reason. Buyer to pay the cost to return the dresses, pay the reshipping cost, and any difference in the prices. |
The Old Order Amish and Mennonite Women have been wearing these types of dresses dating back to the 1800'S
Both the Amish and Mennonite Dresses come in many styles, colors, designs and sizes.
Some of the dresses have pin on capes, with half aprons, and some have a pinafore apron that ties in the back.
Pinafore: A dress length sleeveless apron that is worn over the dress, and ties in the back. It is separate from the dress.
The Old Order Amish Women From Pennsylvania: Have open capes that pin together in the front to form a V. The apron goes over the pinned cape area, and pins to the back of the dress.
Please see the pictures, I'm showing a reversable cape, and how they pin it into a V in the first picture. In the second picture I'm showing you how to pin the apron on .
Some of the capes go to a point in the back and some in a square. Some are reversible.
The Women's Mennonite Cape Dresses From Lancaster, Pa.:
A Cape Dress
Conceals the figure better than a regular dress and is the most modest dress to be found.
The cape is a dress with the top half of an apron attached at the neck and waist only covering the front and back bodice.
From the back of the cape hides all straps and body lines, Cape are modest
They are pleasing and are comfortable to wear.
My dresses are all handmade, and gently worn.
Theses are quality original Cape Dresses, with no two alike.
I take Great pride in all my Amish & Mennonite Cape Dresses! I work hard to find the finest dresses, to offer you.
I have great dresses for Pioneer or Colonial Day's at School!!!
To get the right measurement for any of my custom handmade dresses
Take one of your dresses, and measure the same way I do
Take a dress that fits well, lay it flat, measuring the front side only
For the bust line: Under arm to underarm X's 2
Waistline: Side to side X's 2
The waist drop: From the top of the shoulders down to the waistline
Length: From the waist to the hem
Over all length: From the shoulder to the hem
Please take a moment and check out MY e-Bay STORE! Lots of dresses to choose from! Adding daily, Year round.
Store name: AMISH/MENNONITE DRESS
Store URL: http://stores.ebay.com/AMISH-MENNONITE-DRESS
If you don't see your size, or are looking for Amish or Mennonite Bonnets, Little Amish boys and Girl's Dress Sets, Men's or Boy's hats, straw or felt. Shirts, or pants.
Some Amish Facts:
The Amish do celebrate Christmas. They visit with family and friends. They do not decorate. The Amish exchange gifts and Celebrate Christmas on December 25Th and Old Christmas (Epiphany) on January 6Th.

If an Amish man has a beard- He is married.

None of the men's pants have zippers- They use buttons.

None of the women's clothing have zippers- They use buttons, snaps, straight pins.

None go to school past the 8th Grade.

Most have phones & electricity in their barns.

Amish do not have Churches.

"rumm-shpringa" which translates to "run around". Amish youth may experiment with aspects of the English world during this time which occurs before they join the church and marry.
Any Questions, Comments or Request email me at: amishmennonitedress@yahoo.com
Blessings,
Sandra