As of November 9th, I am officially a member of the Washington University School of Medicine's study on Birth Control. I had the Implanon placed in my arm, and it's a little weird.
The purpose of the study is to reduce the amount of unintended pregnancies, and see what women would choose as birth control if money was not an issue. Would more women pick a more long term method of contraceptive? They are offering Mirena, ParaGuard, Implanon, and NuvaRing specifically. They're also giving you this method FREE and only ask that you participate in 6 phone interviews over the next two years. If, at any time, you want to quit the method all they ask is that you contact them and tell them why and they can remove it for you. This means that if we want a baby within the next two years, they can take it out and taDA! we can make one. They also offer free STD testing - which...while I'm not worried about it, I'm sure that some are thankful that they're doing this for free.
The most amazing thing about this study is the funding that is behind it. They're extending this offer to 10,000 women in the St.Louis area. Do you know how much money that is? Mirena is roughly $700, ParaGuard is about the same, Implanon is about the same, and NuvaRing (without insurance) can cost $90 a month, sometimes with insurance it's still $60. I was the fifth person yesterday to opt for the Implanon. That alone is roughly $3500. Think of how much they're spending with 10,000 women signed up. This study could mean SO many things, and with any luck what they find could potentially help hormonal contraceptives become free.
My arm hurts a bit and I have a wrap around where the Implanon is because without it, it almost feels like when I'm doing physical movement of the arm (extension, namely) that it hurts the most. I'm hoping that this doesn't affect my ability to work with the girls in the gym. The actual puncture site doesn't hurt at all, which is a bonus. With any luck, any pain associated with the Implanon will be gone in a few days.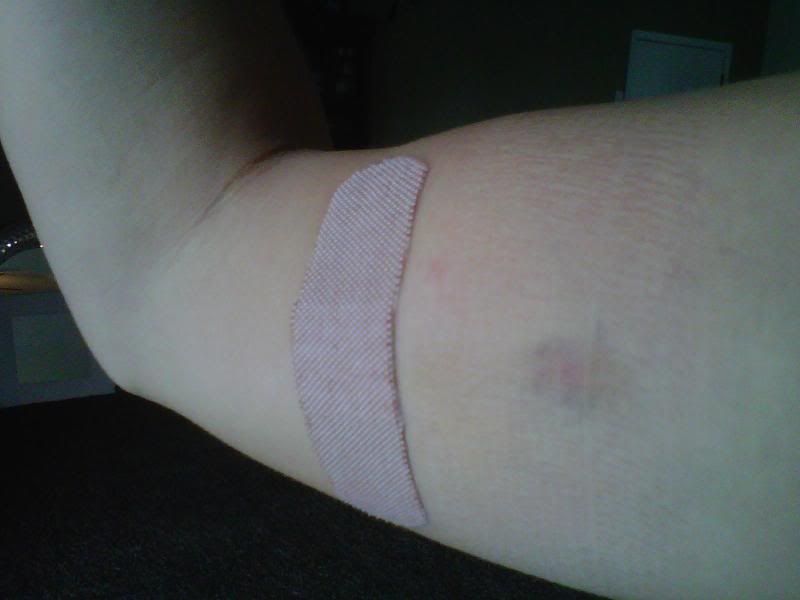 A view without the wrap. The puncture site is below the bandaid, and the implant extends to where the bruise is. It's placed in between the bicep and tricep. Overall, I'm pretty happy that I chose to get this. I'm a little anxious to see how the bleeding will be, because the patterns are unpredictable. They said that I am small enough that it may eliminate periods altogether, which I would be okay with. Since the active hormone in this is progestin, it shouldn't exacerbate my migraine symptoms and it shouldn't make me break out any - but I suppose that we will see.
I encourage anyone in the St.Louis area to become a part of this study - because why not? It's free, effective, and you're helping a University study.